With Music in Mind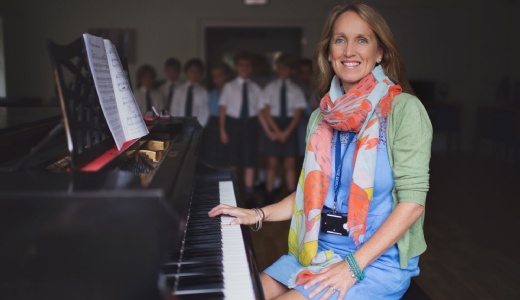 MHS Director of Music, Diane Day, explains the role of Music in helping children to achieve their potential in the classroom ...
Maintaining positive psychological wellbeing in today's fast-paced society can be a challenge for everyone, and with the Mental Health Organisation reporting that 50% of mental health problems are established by the age of 14*, it is perhaps no surprise that Theresa May cited the classroom, rather than the hospital as the place to begin transforming our mental health services. Teaching methods that improve mental health as well as academic attainment may well be firmly on the government agenda, but I believe Music has always played a crucial role in a modern, forward-thinking curriculum that has children's health and wellbeing firmly at its heart.
The mental and physical benefits of studying Music are incalculable and there are numerous books, scientific studies and various TED talks explaining how learning music engages both the creative, expressive nature of the brain as well as the more analytical aspects. Playing an instrument can be a wonderful release for excess emotional build-up as it helps to tap into and then channel energy into positive, creative expression. Anger or distress can quickly make way for passion, and excitement into more measured calm. The end result is a richness of sound, a new melodic phrase or a beautiful expression of the inner self when words are not enough.
For a child to go on and flourish in a busy world of change and opportunity, they need to be happy in their own skin; able to bounce back when things don't go to plan; be aware of their limitations but at the same time open to the possibilities. These are all characteristics that can be nurtured at school by giving children of every age the opportunity to appreciate study, perform and compose Music, as an integrated part of a broad and challenging curriculum.
A recent study conducted by the Welsh charity Tenovus Cancer Care in partnership with the Royal College of Music, found that singing in a choir can actually lower the stress hormone Cortisol and releases endorphins. As a teacher and musician, I certainly see the more long-term effect studying Music can have on children's happiness as they move up through the school. During our many informal concerts for parents and friends we are able to create a safe setting for musicians to not only put their technical skills to the test in front of a live audience, but be comfortable making a mistake from which they can learn, without the fear that they are being judged. When conducting our choirs in competition, at local fairs and in front of hospital residents and local support groups, it is humbling to witness the almost palpable joy this brings to the children, when they captivate a new audience of music lovers. In addition to the inevitable effect this has on their confidence as performers, it also gives the children a sense of their place in the wider community and with it, recognition of the selfless contribution they can make to improve the lives of others. In the same way that Science has shown the profound effect random acts of kindness can have on our happiness, so the rapturous applause from the children's many audiences, is the audible affirmation that a good deed has been done, and there has been a release of some feel-good chemicals. In short, everyone is happy!
Whichever part of Marlborough House School you are in, you are never far away from music. Whether it's hearing the calming sound of one of our many choirs practising their harmonies for a forthcoming concert or a member of the Guitar Band, stealing some time from their morning break to jam with friends, the school always has a song to sing, whatever the weather or time of day. When children sing in a choir or play in an orchestra, music brings them together and they experience for themselves, the positive effects of teamwork and collaboration. With that, comes a real sense of belonging, which is great medicine for the mind!
When we give children regular opportunities to play, listen to, compose and perform their music, we are not just making beautiful sounds, we are also helping them to quietly develop their resilience, adaptability and inner confidence. So, whether it is passing an exam, delivering a speech, asserting a point of view to a group of peers, or reassuring a friend on a darker day, I believe the study of Music plays a crucial role in helping children to learn essential life skills, whilst instilling a 'growth mindset' that will keep their minds active and healthy through Senior School and beyond ...
This article appeared in The Autumn 2017 Guide to Independent Schools