The Wonderful World of Waci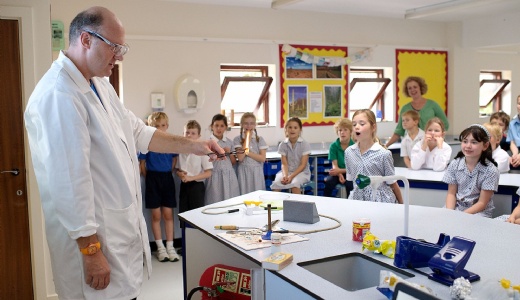 Head of Science, Toby Payne Cook considers what Creativity and Innovation is really all about and why WACI is such an important competition for children ...
Jobs that exist today may not exist tomorrow and as paths to careers become less linear and the workplace demands increasingly broader skillsets, I am conscious of my responsibility as a teacher, to help prepare children for this exciting yet uncertain world beyond the school gates.
Over the last 30 years, computers have advanced exponentially, with infinitely superior processing capacity to our own and although the Internet and social media seem to have taken over our world, they have enabled us to share more ideas, with more people, more often than ever before........... So imagine what the world might be like in 2047! Science and Business need the most nimble thinkers to navigate the complex ethics and technologies in a fast changing world and it is important that our children develop life skills that will enable them to not only navigate change, but thrive as a result. So in conversation with colleagues, the idea for The Weald Award for Creativity and Innovation (WACI) was born, and with it, an opportunity for us to identify and nurture a new generation of creative young minds.
Before becoming a teacher, I spent seventeen years as a scientist in industry. Six of those were spent developing chemical products and a further ten years developing medicines and new drug delivery technologies for Pfizer. My time in industry taught me the importance of collaboration, curiosity and creativity in product development. Utilising state of the art technology, these three virtues helped me, and many of the brilliant people I have worked with to develop innovative solutions to real world challenges. The launch of this competition has enabled me to bring more of this kind of knowledge and experience to the classroom, where children are both curious and often sufficiently confident to try out new ideas with no, or very little fear of failure.
WACI was piloted at Marlborough House School in 2016 with the help of a high calibre panel of judges, which included a biochemist, an architect, an artist and a world-leading remote sensing scientist who has pioneered satellite-mapping techniques and worked for NASA. Just being in the same room as the panel felt like being bombarded with twenty billion rapidly firing, interwoven neurons; with no one field of expertise dominating but all united in finding and being inspired by young creative minds. From the outset, the children involved were eager to use their imagination powers to conjure up and develop a host of innovative solutions to every day challenges. From a lifesaving wristband for dementia sufferers to a rewards scheme to incentivise exercise in 'green parks'; and from making a cup of high quality filter coffee using hand sewn coffee bags, to explaining how cochlear implants could help people with hearing impairments - it was clear that the competition had the power to not only inspire creativity, but also prompt children to view the world from a different perspective.
There is no theme or remit for WACI competition entrants. The only criteria is that children must be in Year 7 at school; that they must come up with a creative idea, place it in context, and communicate it well. It is not a research prize, nor a public speaking award but an opportunity for children to apply their powers of logic and creativity to develop an original idea, solve a problem or simply improve an existing product, process or organisation.
Continuing with a prize fund of £1000, the competition was opened up this year to children from local state and private schools. The winning innovation came from a pupil at Bethany School who built a prototype "Toilet Super System", including a turbine designed using a 3D printer, to generate electricity by harnessing the wasted energy from flushing a loo. While a large cash prize is a significant incentive, the most impressive candidates also received an eye-opening, experiential prize. On a school trip like no other, 13 children this year had a guided tour of an architectural 'grand design' in Goudhurst, courtesy of the architect himself and a visit to the COOK kitchens in Sittingbourne to understand how a simple creative idea could grow into a business with a turnover of £52 million. A behind the scenes glimpse of scientific innovation at work in the Pfizer development laboratories left many of the children wide-eyed with wonder as they got to grips with the scale and cost of the drug development process........and I took a trip down memory lane!
Throughout my career in industry and education, I have seen that when you dedicate more time to developing creativity and the imagination, innovative ideas are born and problems can be overcome. Our ambition for WACI, is to involve even more companies and sponsors in coming years but most importantly, encourage more children to imagine, wonder, explore, play, build, question and take a risk in pursuit of an original idea. In doing so, they too could become curious enough to discover the art of creative and collaborative problem solving; a life skill that I believe will stand the test of time and enable the next generation to always view a world of change, as a world of opportunity.
This article appeared in the September 2017, Wealden Times Magazine