Fortune Favours the Brave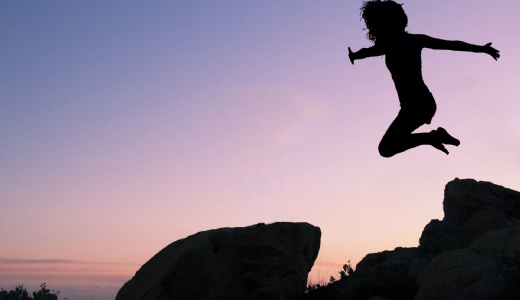 Head of Year 3 and 4, Sarah Dodds ponders the role of schools in encouraging girls to be braver ...
I am the daughter of a now retired female Managing Partner, who worked just as many hours as my father. As a result, when asked to write an essay on my family life aged 13, I commented that my parents "shared the trousers" in a domestic setting. I was taught to make my own decisions, that these decisions have consequences good or bad, and that you simply deal with these as you see fit. I was, and continue to be a worrier by nature, and yet my brother who was brought up in the same household is confident, takes risks and is not afraid of failure. I have always worried about "doing the wrong thing," stepping on someone else's toes, and am more anxious about my decision-making than my sibling. Now a mother myself, I have been left wondering where my courage went, and how my girls can avoid losing theirs.
There have been many studies about the language used with our children and the expectations we have of them. A new study from Netmums reveals that 88 per cent of mums admitted that they treated their sons and daughters differently and that they are twice as likely to admit to being more critical of their daughters than of their sons. The findings indicate that many parents typecast their children according to gender; girls were described as "stroppy", "argumentative", and "eager to please", whereas boys were seen as "funny", "cheeky", "playful" and "loving" – a much more confidence-building set of attributes!
Previous articles I have read with my professional hat on have indicated that where a teacher of young children might overly praise a boy for following a simple instruction, a girl might be overlooked because the expectation is that she would already have done it. In a bid to encourage boys to read and write when they start their formal schooling, we build their confidence by heaping praise on a piece of work, exclaiming "keep it up!" Whereas evidence suggests phrases like "good girl" or "clever" are used to describe their female counterparts. Research by Dr. Carol Dweck, who has written at great length on the Growth Mindset phenomenon backs up these theories. She explains that young girls are often praised for being "smart" or "good," while young boys are often praised for "trying hard". All this does is to exacerbate the problem; sub- consciously reminding girls to be perfect, that the way they behave is more important than their academic prowess or effort and creates a fixed, and therefore closed, mindset. Boys on the other hand are praised for their effort, rather than simply just the result, thus encouraging the belief that one can change the outcome through effort and perseverance. So in essence, boys are learning that with more effort, more support, and more persistence you can achieve greater results. Unfortunately, if these studies are to be believed, girls are learning that if you can't be perfect on the first try, to simply give up, because you will never improve. Caroline Paul, who was the first female firefighter in San Francisco said "a lot of girls are focused on perfection, it's that 'all or nothing' thing". The knock on effect is girls reduce their risk taking, not wanting to answer a question for fear of being wrong, or step outside their comfort zone by braving an inaccurate spelling or simply resisting the urge to "give it a go".
Outside the classroom, the findings are similar. According to an article in the Journal of Paediatric Psychology last year, we are four times more likely to tell our daughters to "be careful" than we are our sons. The obvious drawback remarked on by the researchers is that "girls may be less likely to try physically challenging activities which are important for developing new skills". So it is no wonder that Reshma Saujani, founder of Girls who Code, remarks in her recent TED talk that we appear to be "raising our girls to be perfect, while we are raising our boys to be brave".
As a teacher, I encourage all children in my class to be brave, especially the girls and "Character Education" plays a crucial role in this. It forms part of our lesson planning, our delivery, our feedback to children and to their parents. It enables me to explore and draw upon learning 'virtues' in tandem with the sharing of knowledge. I can talk about a child's ability to reach their full potential in terms of the characteristic virtues they already possess, and those we can help develop. The main purpose of school is obviously to study the academic and creative subjects, but these are not the only things that children need, if they want to achieve success and happiness in the real world. It is important to help children develop the character traits that will enable them to make a positive contribution to society and the workplace. Traits such as Honesty, Responsibility, Perseverance, Courage and Effort are identified, encouraged and celebrated in a curriculum that has "character development" at its heart. Helping children to develop these moral and spiritual virtues alongside practical wisdom will surely enable them to flourish both in and outside of the classroom.
Significant risk-taking – and consequent failing - has been shown to increase children's competencies, imaginations, confidence, and resourcefulness and with "Character Education" embedded in a curriculum, these can be taught as seamless integrations that enrich the more traditional lesson plan. Recklessness is obviously to be discouraged, but calculated risk, in the safety of a classroom setting, helps build resilience and self-belief. These are key life skills, as how else do we realise our own capabilities if we never challenge ourselves? As teachers, we can model ourselves as risk takers, celebrate mistakes as an opportunity to learn and discuss narratives about mistakes that result in successful outcomes. With younger children, we can use teaching resources to firstly highlight when things don't go to plan, before discussing how those mistakes could be resolved, or retrospectively, avoided altogether.
"Character Education" is for all children, but in giving virtues such as Resilience, Determination and Risk-Taking the same status as more traditional learning objectives, I believe for girls, it has the power to really challenge what "perfection" in school, looks like to them. What could be more perfect than putting the fear of failure in the classroom, exactly where it belongs - behind Confidence, Focus and Courage? I believe that when we channel a natural openness to take risks and test boundaries back into the classroom, we as teachers can help bring the sometimes seemingly disparate worlds of Life and Learning much closer together, and in doing so, prepare girls as well as boys more fully for a life beyond school.