Let's go Outside...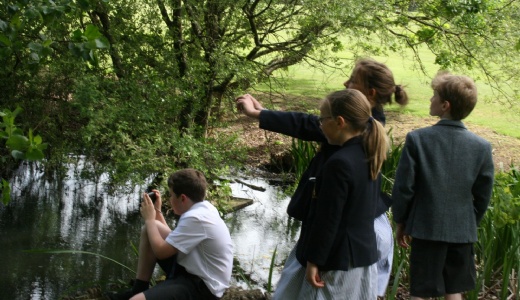 Head of Year 3 and 4, Sarah Dodds reflects on the myriad of learning opportunities in the great outdoors ...
With the summer holidays now over and the autumn term upon us, those balmy evenings, seaside picnics and afternoons spent paddling in the shallows of cool streams can seem like distant memories. Bottling that feeling of carefree days spent outdoors in a Blyton-imagined world (washed down with the obligatory ginger beer of course) would certainly sustain us through the colder months ahead, but in a quest for schools to develop a life-long love of learning – the outdoors has a crucial part to play whatever the season.
Outdoor learning is not just about children getting fresh air and exercise in between lessons. Nature ignites passion, inspiration, curiosity and purpose and it plays a crucial role in the cognitive, emotional and physical development of children. Dr Amanda Lloyd, a leading researcher and advocate of outdoor learning says of children who have taken their curriculum into the outdoors - "Their oral skills and vocabulary improved because they were not scared to practise them outside in an informal environment. They were more focused, more engaged and on task because it had real-world meaning...". Incorporating mindfulness into the school day and even teaching meditation can also improve children's attention spans, help them to control their emotions and make more balanced decisions, whether that's in class, on the stage, in the exam hall or out on the sports field.
Working together outdoors, children are able to put their own ideas into practise. It takes them away from the 'right' and 'wrong' of more directed, classroom learning to the 'how' and 'why' of independent, child-led learning – the best kind of learning! Critical life skills such as leadership, teamwork, resilience, good judgement and persistence can all be developed outdoors, with much evidence to show that they enhance performance back in the classroom. Geographers can experiment with half drainpipes, pebbles and water to understand riverbed formations and collaborative boat-building projects can help young scientists understand Archimedes principles of displacement first hand. Den builders in Forest School learn the hard way, that the forces of nature and gravity can sometimes ruin a seemingly brilliant design for an outdoor shelter, however through trial and error and considering alternative views, the solution is out there – and children are motivated to find it.
In 2012 a group of London schools banded together to launch the "Empty Classroom Day" initiative. By 2015, there were 15 countries and over 600 schools involved. In 2016 they joined forces with Project Dirt in what is now a global bi-annual event with over 2.3 million children taking part in a day to celebrate and inspire outdoor learning and play. It certainly inspired us at Marlborough House. A colourful array of Wigwams and bell tents gave our grounds a somewhat festival feel, and proved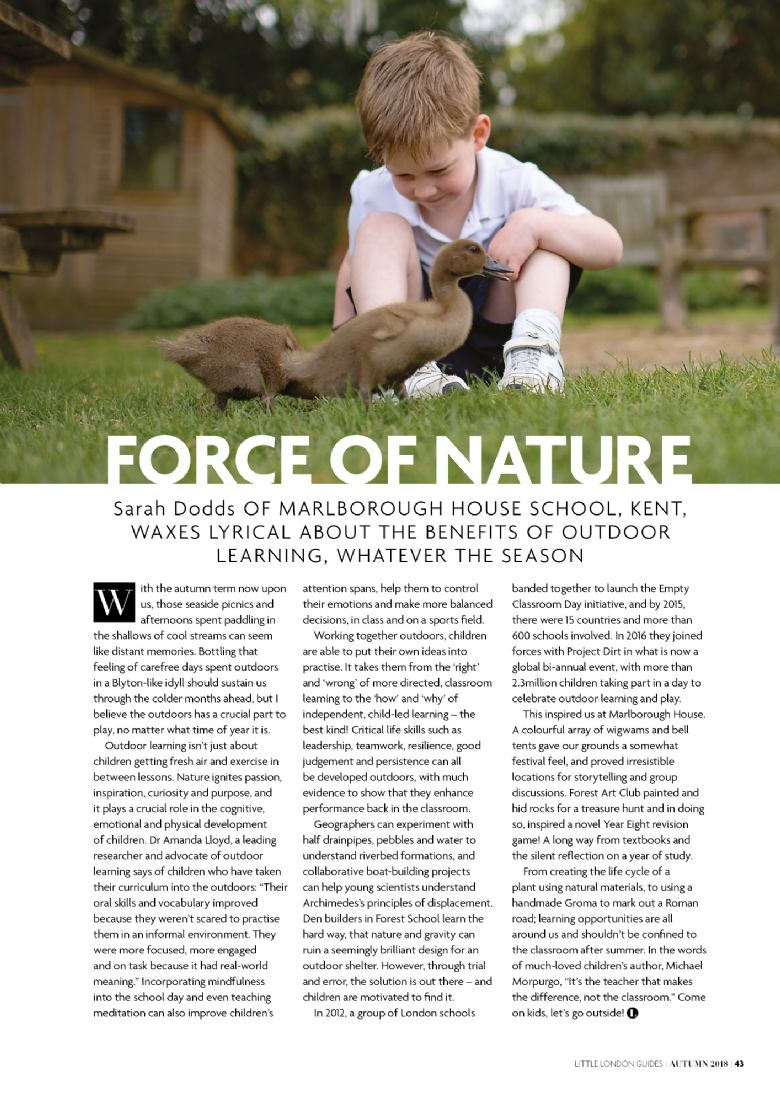 irresistible locations for storytelling and energetic group discussions. Forest Art Club painted and hid rocks for an exciting treasure hunt and in doing so inspired a novel Year 8 revision game for Common Entrance exams! A long way from textbooks and the silent, solitary reflection on a year of study.
From creating the life cycle of a plant using natural materials, to using a hand-made Groma to mark out a Roman road; learning opportunities are all around us and should not be confined to the classroom when the days get shorter. In the words of the much-loved children's author Michael Morpurgo "It's the teacher that makes the difference, not the classroom". Come on kids, let's go outside!
This article appeared in the Little London Guide to Schools - Autumn 2018