Brilliant Book Week 2016!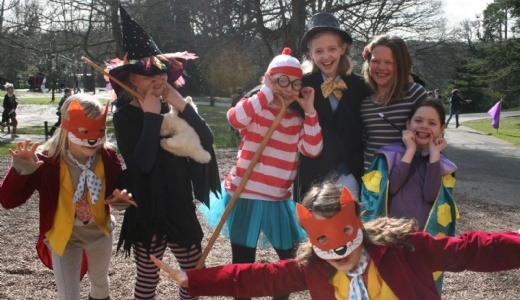 We have had a great Book Week at school!
On Monday we had not one, but TWO visiting authors: Alan Gibbons – award winning author of over 61 books and Kathryn White who has written over 25 books. Both authors were inspirational! Kathryn spoke to, and read stories to, children from the Nursery to Year 4. One little girl from Year 2 apparently went home to her new desk, made by Grandpa, and immediately set to work on creating her own literary masterpiece. We look forward to reading it soon!
Meanwhile Alan, a proud Mancunian who now lives in Liverpool, was entertaining children from Year 5 upwards with his whacky sense of humour and silly jokes. It was like watching a stand-up comedian! He gave the children considerable food for thought with the real life background stories which inspired some of his writing – all situations where lives have been changed or ruined by choices people make.
Working in the writing sessions with the children, he led them step by step to create their own interesting and detailed portrayals of characters and settings across a range of genres: Year 8 were meeting Count Dracula in Transylvania, while Year 7 were embroiled in a the setting for a ghost story. Year 6 wrote a piece on "Honey I Shrunk Me" and, in Year 5, they took a ride aboard a dragon! The children all set to work with great gusto and we have some super openings to stories which we hope they will continue in the future.
Mystery readers across the teaching team turned up unexpectedly – some in costume – to surprise the children with a reading of their own choice. Year 5 were terrified by the fearsome Mr Kimber in Greek costume who appeared to regale them with some myths.
We also all had a time to visit the super Book Fair on Monday and Tuesday, and as always, Mrs Elcombe delighted us with her wide range of beautiful books. From the sales of these, we will earn commission for MORE lovely books! Grateful thanks to the parents who supported the Fair and the authors' book sales.
On Thursday, the Pre-Prep and Middle School all came dressed up as characters from their favourite stories and then, after break, the whole school were entranced by 1W's Book Week Assembly and we were soon singing and cheering along with 1W, celebrating the magic of reading. Mr Ward looked the picture of sartorial elegance as "Mr Cockatoo!" although he seemed to have aged a little – with his bushy grey moustache…
We have certainly had fun and hopefully we will have lit the fires of inspiration and stoked the coals of passion for getting hold of and reading a really good book!
To see the Gallery of photos please click here http://www.marlboroughhouseschool.co.uk/gallery/?pid=42&gcatid=14&albumid=51