Year 6 visits La Belle France!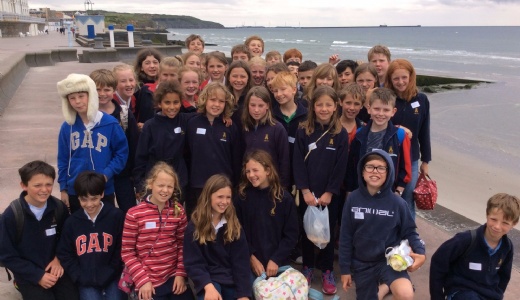 Esme and Ines write about the trip........................
On Thursday the 16th of June, we set off with a flying start as we all clambered onto the coach. We watched Mamma Mia, Frozen and Le Petit Nicolas on the way and sang along to all the songs. Unfortunately, the heavy traffic meant we missed our ferry, but luckily we were moved onto the next one.
We arrived at the residential centre in the early afternoon, went to our rooms and unpacked our bags. As soon as we had finished, we went out to the forest. We did some activities, these included: Finding animals, walking barefoot and drawing pictures with forest materials. Then, after dinner, we participated in some teambuilding activities, which were organised by Mr Kimber and Mr Reid.
The next day, we travelled to the French school in Lillers. We did our best to have a conversation with the French students. After we had finished talking, we went to the local sports hall and played some games. Once we had finished, we went to a farm in Lillers. It was really fun to see all the animals. Next we went shopping in St Omers. Then, we went swimming, which was a great success. The water slide was extremely popular!
Then, we made our way back towards the centre for the Talent Show. The talent show included 'the lumberjack song', a day in the life of Mr Ridge, Mr Kimber and Mr Reid and many others. At the end of the talent show, we were all very tired so we went straight to bed.
On the last day, we travelled to a boulangerie (bakers' shop) where we learnt how to make croissants and bread. Then, we went to the crêperie by the beach and had lunch next to the sea. Next, sadly, we had to make our way back to the ferry. After a long journey we arrived back in England and drove back to school. It was a great trip, and we all enjoyed it very much!
A huge thank you to Madame James, Mrs Atkins, Mr Kimber, Mr Reid and Mr King for taking us to France.