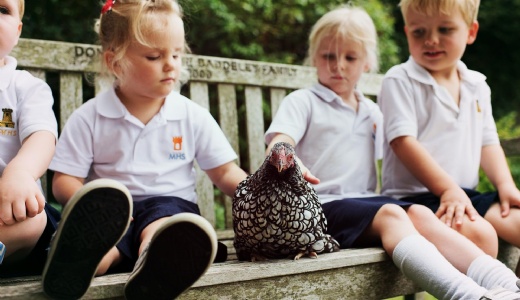 Common Entrance- To CE or not to CE?
Published 22/02/19
Delivering a Bespoke Learning Journey for Years 7 & 8
As you know, Common Entrance (CE) has long been considered the Gold Standard for Prep School attainment and the currency by which children gain access to their Senior Schools. The rise of pre-testing in Year 6 now determines the vast majority of Senior School entry decisions and essentially renders CE irrelevant in the process. It also begs an important question about what the curriculum focus should be for our children in Years 7 and 8.
The CE programme rewards rigour, discipline, time management skills and rote learning, and in so doing encourages a methodology where children 'don't get it wrong'. However, we are living in a time where the traditional skills of the conventional world, as epitomised by CE, are increasingly being challenged.
Over the last two years, MHS has spent a considerable time consulting with Senior Schools and exploring alternative approaches that could form a curriculum programme for Years 7 and 8. I have personally been in contact with every school that we feed and they have all said that what they want from us is exactly what business leaders and industry professionals want from them: yes they want rigour and discipline, but they also want to see an advanced development in the skills of creativity, critical thinking and problem solving.
Moving forward therefore we have taken the decision to deliver a Years 7 and 8 curriculum that will accelerate the development of these skills and enhance the children's performance into and through Senior School. This will be facilitated by the introduction of the Pre Senior Baccalaureate Programme (PSB) starting for the current Year 6 children in September 2019.
Many of you will know that the PSB is a well-established and universally accepted pathway into Independent Senior Schools. By adopting PSB we see an opportunity to re-set and re-purpose our educational philosophy and move away from the simple acquisition of knowledge to a system which delivers the acquisition of knowledge AND the acquisition of skills AND the application of knowledge.
By moving to PSB we also see an opportunity to enable more children to take advantage of scholarships – Senior Schools have told us that the skills the children will be acquiring during these two years are often the difference between the children who win scholarships over those who don't.
Read More