Food Glorious Harvest Food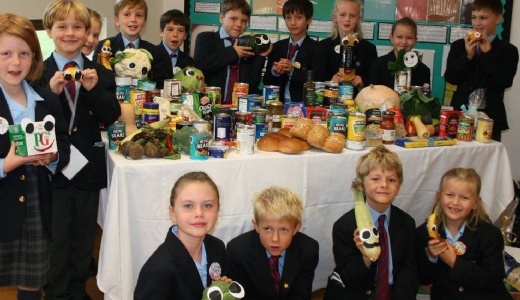 "It's Another Harvest Festival". It certainly was! The Pre-Prep and Year 3 were in fine form with a fun, party atmosphere.
Nursery started the proceedings off with a lovely rendition of 'Dingle Dangle Scarecrow". Some of the very young scarecrows weren't feeling particularly dingily or dangly to start with (it was rather early!). However they soon perked up when joined by enthusiastic scarecrow reinforcements from Reception. Reception then burst into another song and performed 'Big Red Combine Harvester' with great gusto. Ms Coatz added drama to the proceedings by revealing mystery vegetables from her secret harvest box. The children loved playing "guess the vegetable". This stood us in good stead for some of the songs and poems performed by Years 1, 2 and 3. One of the highlights was Year 1's heartfelt and moving performance of 'The Thank-you Song'. It reminded all of us just how lucky we are at MHS with the following words: "help us not to forget, remind us not to forget: we've all we need and more and so we should make sure that our hearts say "thank you". The generosity shown by the donations from the children and their families was also very touching. Thank you to everyone who donated items.