Year 4 Evacuate to Horton Kirby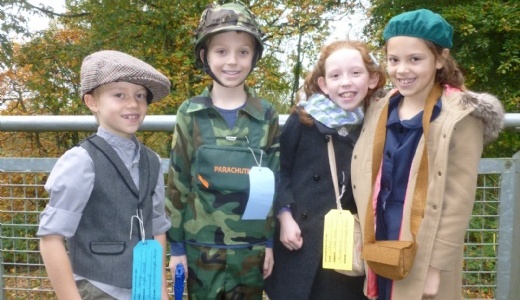 On Tuesday, 3rd November, Year 4, dressed as evacuees and in other World War II outfits, went to Horton Kirby.
When we arrived, we were given the names of children who had actually been evacuated to the village during the war. After that we did a tour of the house, discovering what the rooms had been used for back in 1940. Where we hung our coats had actually been the headmaster's kitchen. We then went for a walk around the village, stopping at various points to discuss what buildings had been there then and what they had been used for. One building had made machine guns. The church steeple had had to be rebuilt, as chains from a barrage balloon had caught up on it during a storm and ripped the top off. We played pooh sticks at the river and found out that farmers had painted white stripes on their cows so they could be seen in the blackout.
After lunch we played a number of games – skipping and rolling a hoop proving quite popular. We then had a talk about various artefacts found in and around the village before experiencing a school lesson. We learnt about shillings and pence, facts about a hedgehog and how to tie a sling. The teacher was very strict and in 1940 Guy would have been caned for teaching a younger boy bad language. The air raid siren then sounded, so we hurried to the dark, damp air raid shelter where we sang some songs and Mrs Mathers did some knitting. After the 'all clear' whistle, we went to look at an Anderson shelter which was very musty and cramped. It must have been very frightening sheltering in one of them with bombs dropping around you! We were then shown how to use a stirrup pump to put out fires before clambering back onto the bus for the journey home.
We certainly learnt a lot. Many thanks to Mrs Mathers for organising the trip and to Mrs Whiteley, Mrs Taylor and especially Mrs Smith for accompanying us on our fun day!
View our photo gallery here: http://www.marlboroughhouseschool.co.uk/gallery/?pid=42&gcatid=14&albumid=21