Senior School's Gone To Iceland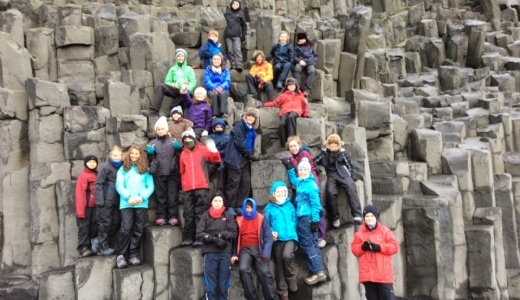 For a selection of Yr 7 & 8 geographers, half term started with a fascinating and incredible 'trip of a lifetime' to Iceland.
Known as the "land of fire and ice", Iceland offers a wonderful opportunity to see Geography in action, whether it's volcanoes, earthquakes, rivers, glaciers, tourism or energy sources, seeing it in Iceland offered students memories to take with them for the rest of their lives. Thank you to parents and students for supporting the trip and making it such a success.
Mr Kimber, Head of Geography
Iceland Trip Report by Keara and Jo
18th October 2015, Day 1
With our bags packed, raincoats and skins at the ready, we set off to Heathrow ready for our flight. After passing through security, we went shopping for lunch (and one or two sweets!) for the flight before boarding our plane.
When we landed in Keflavik we went straight to the lava tubes. They are in the Blue Mountains and we explored Leiðarendi cave. During our underworld adventure we witnessed magical rock formations that were left by the lava river deep underground. We walked, ducked and crawled on our knees and plunged into complete darkness. Some of the staff were very scared but we comforted them! We then visited Perlan, a Reykjavik landmark. It is a futuristic building made of large circular tanks which hold the cities naturally heated water and above that, is a revolving glass dome that is also a restaurant. We went outside onto the viewing platform and the night view over the city was amazing! A great start to our trip.
19th October 2015, Day 2
Everyone bounced out of bed grabbing a quick breakfast and then jumping onto the coach ready for a long but very entertaining day. The coach drew up outside the geothermal power station where we had a short lecture about how it works and generates power. It's amazing that 90% of Icelandic homes are supported by geothermal power and even their footpaths are heated to melt the snow in a clean and renewable way. We also benefitted from the geothermal power, when we boiled eggs and steamed bread at our next site. They made for a delicious snack after dipping our feet in the thermal hot springs.
I have never heard the teachers scream as loudly as when they went into the pitch black earthquake simulator but in their defence, it was a scary experience and not one I would want in real life.
Walking behind the Seljalandsfoss waterfall was a very wet but fantastic experience. The undercut behind the waterfall enabled us to take lots of great photographs. Just before visiting a glacier, we met the farmers who suffered when the Eyjafjallajokull volcano erupted in 2010 and disrupted air traffic globally. It was amazing to see the footage and then go outside and realise that we were actually there... and to think that it could blow up again!
The black volcanic sand on the beach was great fun. The basalt columns offered a great opportunity for some jumping photos... as well as the arches, stacks and stumps! We then headed into the sunset to take refuge in our hotel, with beautiful views across the flood plain and glacier. We later found out that we slept right underneath the most active volcano in Iceland!
20th October 2015, Day 3
After a good night's sleep, we went down to breakfast for a full day ahead. We journeyed straight to Skogafoss, one of Iceland's most amazing waterfalls. It is a thundering curtain of water up to 60 metres high.
Next we went to the Skógar Folk Museum. We wandered around a collection of historic buildings representing what life was like in the olden days.
At Fridheimar we saw beautiful Icelandic horses and a huge greenhouse that grew tomatoes all year round, despite being so far north! It was amazing and after a short demonstration of the unique Icelandic trot, we petted the horses in the stables and then walked to the greenhouses.
Then we went to one of Icelands most photographed waterfalls; Gullfoss. These double falls drop about 33 metres and then plunge into a mile long gorge. It was great to see Mr Kimber's geography lessons in real life.
At Geysir, we visited hot springs and spouting geysirs that shot boiling water 30m into the air. The stench of bad eggs in the air didn't spoil the amazement of watching the earth working its magic and seeing this incredible phenomenon.
To finish the day, we visited Thingvellir, which is were Iceland's parliament was established in 930AD. The rift valleys are clearly visible where the Eurasian and North American tectonic plates pull apart at around 2cm a year. Mr Kimber was very excited when he saw this!
21st October 2015, Day 4
The last day had come too soon! Tired people trod down to breakfast having a weird combination of food. After breakfast everyone loaded their bags onto the coach ready for a tour of Reykjavik, the capital of Iceland. The coach meandered along the roads passing the wonderful scenery of Iceland. The tour soon ended leaving us at a peninsula where there were hot springs and boiling mud pools bubbling away. Following on from that we wandered over the bridge which was named the lucky bridge and passed through the two tectonic plates where we saw the effects of continental drift. Finally we went to one of the Seven Wonders of the World named the 'Blue Lagoon'. This was most people's highlight of the trip. The bright sparkly water seemed appealing to everyone, most people relaxed in the warm water with face masks and slush puppies, despite the air temperature being about 5®C . Time soon passed and before we knew it we were on the plane ready to go home. The 2 hour journey home was taken up by mainly watching movies and TV. As we got out of the plane we saw the normal, boring flat terrain of England and knew the tremendous, exciting, magical and motivating trip was over.
A huge thanks to Mrs Fox, Mr Ridge, Mr Kimber and Mr Philips for accompanying us during their half term and giving us such a memorable and fun trip.
To see our fabulous photo gallery click here:http://www.marlboroughhouseschool.co.uk/gallery/?pid=42&gcatid=14&albumid=20