A Celebration of Poetry ..............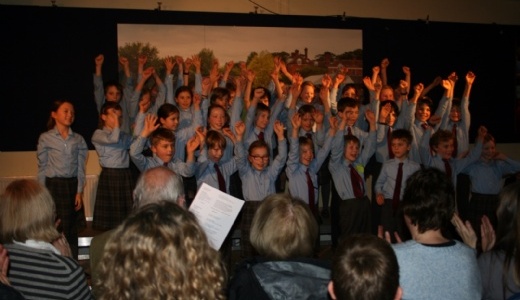 A buzz of excitement filled the Old Gym on Friday evening as Middle School and Prep School held their annual Poetry Celebration.
School life provided a popular topic for many pupils, with Alexandria's performance of 'Homework Oh Homework' receiving exasperated sighs and nods of agreement from pupils. Max and Sam provided teachers with a familiar repertoire of vindications in 'Excuses, Excuses' and Sacha, Jessica and Phoebe took the opportunity to make a public plea to their Year 7 English teachers in 'Why English is Hard to Learn.' Mr Ridge's levels of sanity were questioned in Holly and Serena's adaptation of 'Help' by David Harmer and Theo's rendition of 'Players' Player' must surely be put forward for 'Grace' on a Wednesday before matches.
Whilst Louis and Milos gave an unforgettable and rather supple performance of Lewis Carroll's 'Father William', causing a ripple of laughter around the audience, our Senior pupils entranced the audience with a range of poetry from Plath to Shakespeare. Mia's wise sentiments within the poem 'If' struck a chord with the crowd, alongside Joseph's thought provoking sentiments of standing together in Shakespeare's Henry V, St Crispin's Day Speech, which certainly captured the spirit of the evening. Rosie and Keara performed their own poem 'Cross Country' which resonated many Mum's suppressed memories of their dreaded PE lessons, Rosie – we felt your pain! The evening could not pass without our very own poet in residence, Mr Payne-Cook, providing the audience with an entertaining and fascinating view of life as a water molecule.
All the children performed with admirable confidence and eloquence and huge thanks must go to Katrina Atkins and her English Team, with special mention to Mrs Mathers and Mrs Taylor who supported Year 4 to steal the show with 'The Dragon who ate our School.' The glee which arose on their faces as the 'undeniably cool' dragon decapitated Mr Ward, will not be quickly forgotten!
Thanks also go to Joanna who was our official photographer on the night – well done Jo, you took some lovely photos!