Year 3 Play - A triumph!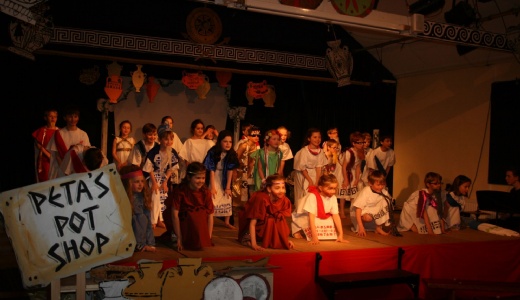 Last Friday we were transported back to Ancient Greece .........................
Last Friday we were transported back to Ancient Greece as Year 3 put on their musical performance of "Greece Goes To Pieces"! Set in Athens in 400BC, the play is centred around an ordinary pot maker Peta (Emilia) and assistant pot decorator Iris (Verity) who tell us the story of Ancient Greece. They introduce us to many of the famous scholars in Athens around this time such as Socrates (Monty), Plato (Ulysses), Hippocrates (James) and the comedic playwriter Aristophanes ( Elliot) who shared his bad jokes with the audience! As the philosophers went on a journey to discover the fate of their great city they sang the 'Philosophers song' which went down a storm!
Next we were transported to Crete to see a mini play featuring the legend of Theseus and the Minotaur. After being thrown to the labyrinth by the heartless King Minos (Tom), brave Theseus, Prince of Athens (Oliver) was helped by Ariadne (Rose) and the goddess Athena (Eleanor) and after his terrifying battle with the fearsome minotaur, Theseus managed to defeat the beast.
The Athenians, played by Imogen, Felix and William, demonstrated their love of their rich culture, but they had recently been defeated by the Spartans (Sophia, Rex and Leo). The Spartans, being warriors, showed how different in nature to the Athenians they were as the audience witnessed the tension build in the streets of Athens! Anxious to find out what was in store for their great civilisation, Socrates, Plato and Hippocrates set off on an exciting journey to see the great Oracle at Delphi visiting the Olympic games on the way.
The wise Pythia (Poppy) and the priestess (Maddie) advised them to seek advice from Zeus himself (Henry) at the great statue in Olympus where they would discover their destiny. The play ended with everyone gathered around Mount Olympus and a final energetic song called 'Dancing round the Mountain' which was so catchy that the appreciative audience were up on their feet and joining in too!
Well done children, the play was, quite simply, absolutely fantastic!
Please click below to see the photo Gallery of the play -
http://www.marlboroughhouseschool.co.uk/gallery/Default.asp?pid=42&gcatid=14&albumid=52&postLogin=true