MHS Book Week 2017!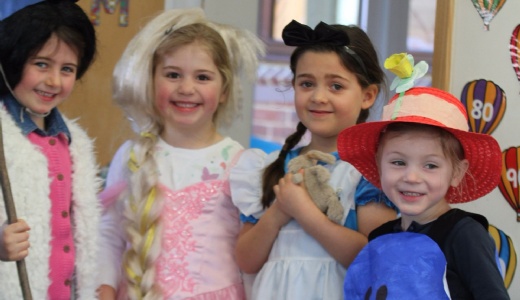 Once again our Book Week has been great fun!
To start the week, we had our usual wonderful Book Fair filled with very tempting treats and all the children had a chance to go and choose a special book for themselves. On top of that the children have also been entertained by THREE Amazing authors: on Monday, creator of the Mabel Jones series, Will Mabbitt, came in and entertained the children in Years 4, 5, and 6 with his lively and interesting talks and workshops. The Year 6 children decreed that he was "Inspiring, fun and amusing" and the children came away with many ideas on how to create believable and original characters.
The children in Pre-Prep and Year 3 had a wonderful day on Tuesday with the delightful author and illustrator, Karin Littlewood, who was incredibly inspirational and really opened up all of our imaginations with her fabulous stories and beautiful art work.
Throughout the week, Mystery readers have been popping up around the school to surprise the children and share some of their own favourite books! Whilst on World Book Day itself, the children and staff in Middle School dressed up as their favourite book character. All around the school there were children dressed in many guises – Where's Wally, Matilda, Princesses, Queens and Wicked Witches and Wizards abounded and we also had a whole pack of Crayons in the form of teachers from Middle School, inspired by 'The Day the Crayons Quit'! The 'Crayons' all read a story to the Middle School children at lunchtime, some very good acting skills came to the fore!
We even enjoyed wonderful Book Inspired Breaks and Tea courtesy of our Catering Manager, Mr Gibbons, and his fabulous team. Congratulations to all the children whose original ideas helped to create the menu for these!
We ended the week with visits for Years 7 & 8 from the renowned author Paul Dowswell, whose wise words and insights offered the older children much food for thought whilst The Young Shakespeare Company performed their own interpretation of Hamlet to an enthralled Year 6 and 7.
What a week! We are sure that the children have been filled with the joy of books and reading and hope they have thoroughly enjoyed all the events and visits on offer. Huge thanks to all the wonderful people who make up "Team MHS" for all their support and help and to all the parents and children for their enthusiasm!
Please click here to see the photographs in our Gallery - http://www.marlboroughhouseschool.co.uk/gallery/?pid=42&gcatid=14&albumid=101