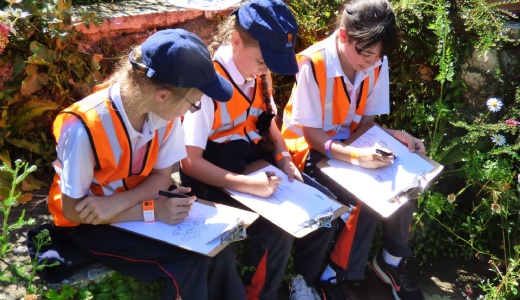 Our Year 4 children happily set off to Great Dixter on Tuesday, a lovely sunny day.
When they arrived, their information guides, Catherine and Jenny, took them to the Education Centre. The children discovered that Christopher Lloyd lived at Great Dixter, he started the beautiful garden there and received an OBE for services to gardening. They learnt that he had loved plants and gardening since he was a small boy and that he was the youngest of six children.
They started off making some pancakes to cook on the fire later in the day. After cracking eggs and mixing the milk and flour together to make a batter, they went to the beautiful garden and drew some flowers. The focus was on spotting patterns and shapes among the flowers and leaves. There were some some incredible sketches, which were drawn on to polystyrene tiles and then printed on paper using paint and a roller. They all thoroughly enjoyed this activity and the finished effect was stunning!
Later in the afternoon, it was time to set off for the forest. On the way they imagined that they were Robin Hood's Merry Men, hiding in the trees from the Sheriff and Prince John. On arrival at a clearing in the woods they set about collecting wood for the fire. The batter was turned into the most delicious pancakes cooked over the roaring fire. Some made dens and swings and all sang songs.
It was a lovely day with so much packed in and the weather was very kind.
Thank you to the lovely teachers who took them on such a fun outing!
Current parents please click here to see the Gallery of photos