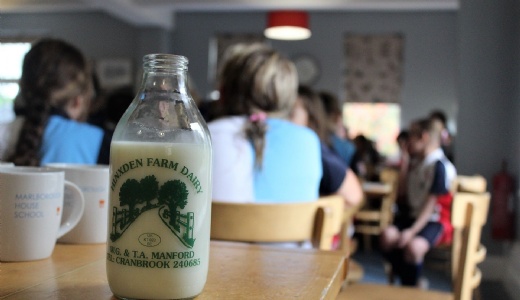 At Marlborough House we are minimising our food miles and supporting local farms and businesses.
We use a range of local food suppliers, enabling us to provide the children with fresh and nutritious meals, reduce our carbon footprint and support the local economy.
Here is some background information on our current suppliers:
This local butcher in Staplehurst supplies all our meat on a daily basis. Crouch butchers are a second generation family butchers with two other retail shops as well as the one in Staplehurst. They source meat from farms in Kent and Essex, with our beef, lamb, chicken and pork being outdoor reared.
P.K Produce is located in Biddenden and supply all our fruit, vegetables and salad items on a daily basis. They go to the London markets each day as well as sourcing locally from Kent producers.
Many of our dairy products come from Hinxden farm dairy in Benenden, which has been dairy farming since 1930. They have a herd of 200 Guernsey and Holstein cattle producing milk, yoghurt and cream, which are outdoors in the summer and loose housed in winter.
Plaxtol bakery are a second-generation Artisan bakery, located in Tonbridge and supply our cut bread, rolls and whole loaves.
AB Hollands
AB Hollands supply our Lion quality free-range eggs from their farm in Battle. They have a flock of approximately 20,000 free-range birds and have been egg producers for three generations.
Based in Sittingbourne, Q Catering supply our ambient, frozen, and chilled products. They use local suppliers where possible including Kent crisps, Kentish oils, Solley's Kentish Ice cream and Canterbury Ashmore cheeses.
And thats not all....
At MHS we follow the guidelines set out in the Food for Schools Programme. This plan is about good food and happiness. It is about the pleasures of growing, cooking and eating proper food. It is also about improving the academic performance of our children and the health of our nation.
We aim to provide balanced, nutritional meals and snacks for the children, including fresh fruit and vegetables with every meal. Morning and afternoon snacks are usually carbohydrate based to sustain the children through the next part of their day with the natural sweetness of fruits being used to reduce the amount of sugar in our sweet bakes whenever possible. Fruit is always available as a snack alternative.
Our lunchtime meal has a main and vegetarian option as well as a jacket potato as a further alternative. A mixed salad of cucumber, carrot sticks and cherry tomatoes are on each table every day. There is also a salad bar option for Year 8 children where we have a variety of deli items and tasty salad accompaniments. Puddings will usually have a fruit base with fresh fruit and local yoghurt always available.
Children have the opportunity, once a term to vote on a new recipe, letting us know whether they enjoyed it or not. The pupil council is also a good opportunity for the children to provide us with valuable feedback.