Pre-Prep's Exciting, Fun-Packed Science Day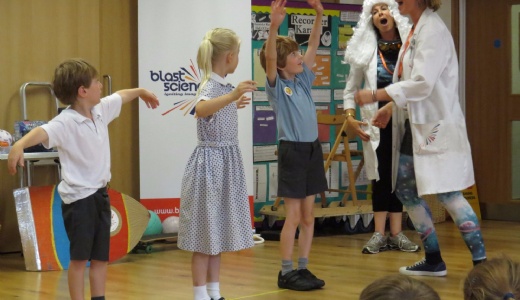 As Tim Peake returned to Earth, our Pre-Prep children were learning how to make a space rocket to take him back again!
In an action and fun packed Science Day the children were challenged to make a heat proof, durable rocket for an 'eggstronaut'. Armed with kitchen roll, tape, foil, bubble wrap and cotton wool the children worked in teams to create the perfect spacecraft. We are pleased to say many 'eggstronauts' survived to tell the tale. Earlier in the morning the amazing team from Blast Science showed us that forces are fun! 'Sir Isaac Newton' made a guest appearance and with an especially shiny apple, showed us how gravity was discovered (the children will never walk under an apple tree in quite the same way again!). Mrs Herbert proved that she would 'taste good in a slice of bread' as the children delighted in thwacking her with a hammer to demonstrate how forces dispel along a flat wooden surface. In the afternoon, the highly entertaining Mr Sandy Elsworth was welcomed into Pre-Prep to talk to the children about the creation of the earth. Mr Elsworth shared his wonderful collection of crystals, fossils and skulls and the next generation of Scientists were well and truly inspired.
Current parents click here to view the full photo gallery.