The Life Scientific ...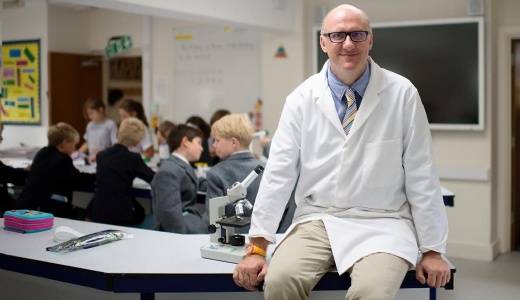 Mr Payne-Cook reflects on a week of wonder at the MHS Science Festival ...
It has been great to enthuse our children to experience and engage with Science in its broadest sense this week.
Our three visitors, enlightened, inspired and provoked in equal measure. Nigel Leigh, Professor of Neurology at the University of Sussex, took children from Years 6 to 8 on a voyage around their brain. His interactive and engaging talk compared reflexes with memory and he also veered into Philosophy. His expertise is in motor neurone disease and neuro-degeneration, so to speak of Stephen Hawking's determination, one day before the great scientist and thinker died was both timely and poignant.
On Tuesday, Dr Caroline Shenton-Taylor – a Nuclear Physicist with a peculiar hobby, was nothing less than inspirational. An excellent communicator: dynamic, entertaining, curious and intelligent; she took children from Years 5 – 8 on a voyage deep inside the atom and then told a fascinating story about Auguste Picard, a friend of Einstein's, and her hobby of launching balloons into Space! Science was interwoven with history and it triggered a wave of deep, thoughtful and curious questions. She was very impressed with the quality of the questions from children so young. Her answer to "what is the best thing about being a scientist?" was "The joy of finding things out that no one else has ever seen or done." This is why I loved being a scientist too; I think 'How' and 'Why' are so much more important than 'What' and 'When'.
Dr Gary McKay joined us on Thursday evening, along with Years 7 and 8 for some Science and Ethics based debates. His thoughts were, as always, 'out there': intriguing, insightful and creative. He likened advances in technology to the tide. They rinse over us, they are inevitable, unstoppable and part of the very fabric of the universe.
On Monday, after Professor Leigh's age-adapted voyage around the brain, I indulged myself by exposing Years 6, 7 & 8 to the wonderful world of proteins. I decided to compress some A' level Biology and post-graduate freeze-drying theory into 25 minutes; utterly baffling my audience......... yet I make no apology. My chief aim here was to remind children just how complex and specific Science can become; and not to over simplify it or dumb it down for an exam specification. I hope that I managed to convey my enthusiasm for complex science and ideas, and the joy in attempting to explain how medicines and our bodies work.
Elsewhere, I morphed into the wild-haired, wacky and wonderful Professor Erasmus Thinkington-Wotsit: entertaining Years 1 and 2 in the lab on Tuesday; and diving deep into the Science of Everyday Products with Years 3, 4 and 5 on Friday afternoon. Children tend to think of Science as either big, 'wow', explosions and deep space adventures; or really complicated and inaccessible, but Professor Erasmus tried to convey that there is as much science in milk or low fat mayonnaise as there is inside a black hole, a firework, or an atom bomb…
In class, children had been researching different time periods in the history of Science, from the Ancient Greeks to the Human genome project in 2000. The creative output from their research will, very soon, adorn the walls of the Science lab lobby. On Friday morning, Year 4 and 5 children discussed the most important scientific inventions and discoveries; and what sort of scientist they would like to be when they grow up. We also discussed some hypothetical "choices": Humans or Robots; the Internet or Books; Nature or Technology; Imagination or Knowledge; a happy, healthy 80 years or Immortality; A sustainable, green Earth or human civilisation on Mars. The ensuing discussions and ideas were fascinating…
My two personal highlights of the week were at the extreme ends of our pupil age range. Firstly, the Science show in the lab for Years 1 and 2. The joy and surprise on some of the children's faces was fantastic to see, and their questions; excitement and wonder about Science, an absolute delight to witness and encourage. They sat, looked, listened and asked great questions for 50 minutes; an astonishing feat in this restless age – and proof that if children are engaged in their learning, they can focus and sit still. Well, sometimes!
Secondly, the Year 8's constructed and articulated some excellent arguments at the debates on Thursday. There was a swing towards a tax on added sugar; a swing towards not renewing Trident and a swing away from more choice in Science at school (this was a complex topic for the children to research and debate, but it was great to hear two sets of contrasting, impassioned and equally valid arguments). The audience engagement (Year 7 & 8, some parents and teachers) in these debates was fantastic and I felt really proud of the articulate, curious, open-minded and respectful discussion and questioning which ensued. I really enjoyed orating on a pause to the advance of Science and Technology, and the opportunity to sit back and reflect on the advance of culture and civilisation without technology running amok amongst it. My arguments were well received and there was only a swing of one vote against me; but understandably, the pro-science arguments presented by Dr Gary McKay were more popular, and realistic.
So, why did we hold a Science festival? Well, firstly because it was British Science Week and we wanted to shine a light on the importance of Science in all our lives; to broaden horizons; deepen insight and to expose children to a wide variety of potential applications of Science in their future careers. To sow a potential seed for their futures. Secondly, to present the idea that Science is for life, not just for school – that Science is really just another word for human curiosity and ingenuity. Curious minds can sometimes be stifled in an exam driven education system; yet in life it is those curious minds which drive us all forward; therefore nurturing this virtue and all-consuming trait at school, strikes me as one of the most important things we can do as educators.
And so it seems appropriate to end my post Science Festival week blog with two quotes from the late, great Stephen Hawking:
"My advice to young scientists is to be curious, and try to make sense of what you see."
"Try to look up to the stars, and not down to your feet."