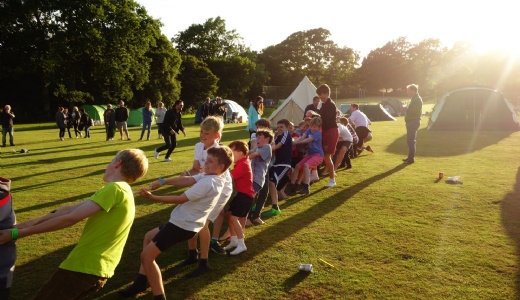 The Camp out was a sell out event with over 350 parents and children attending!
This year the families were entertained with, amongst other things, a bucking bronco, an enormous assault course, tug of war and pony rides. The sound of Maypole tunes rang through the camp with dancing led by Mrs Willett. It was great to see the mums, dads and of course the children all having a go. The children really got into the festival spirit with their glitter tattoos and craft making.
A huge thank you goes to our catering team for the amazing Mexican feast, which was absolutely delicious and enjoyed by all. After the feast the children gathered round to hear the wonderful storytelling from our very own Mr Little.
We were entertained again this year by the fantastic 'Blokks Band' who got the whole crowd up and dancing under the stars with some very popular tunes.
To round off the evening, those that stayed had a much deserved hot chocolate kindly made by Mrs McTrusty (all 36 litres of it!) ready for the campfire songs and a big thank you goes to Mr Ambrose who kindly accompanied these, what a lovely way to round off a wonderful evening.
The atmosphere was amazing! It was such a lovely event and wonderful to see all the families and children having such fun together.
Huge thanks go to our Maintenance team for all their hard work and of course to Mrs Hastie, our Chair of Friends, and her committee for co-ordinating this popular event - a fantastic team effort!