Information on our school reviews are available below. If you would like to find out more about life at Marlborough House, our next Open Morning is on Thursday 6th and Friday 7th May 2021. You can book your place by completing our online Registration Form or by emailing our Registrar, Emma Houchin registrar@marlboroughhouseschool.co.uk
Independent Schools Inspectorate Report
We are delighted to share our latest full inspection report (July 2015) in which we were rated 'Excellent'. This is available to download below and is also on the ISI website.
ISI Report 2015
An Independent Schools Inspectorate (ISI) inspection is a rigorous assessment of all aspects of a school and examines structures, policies, practices and culture, as well as the quality of governance, leadership and staff.
Aspiration, the curriculum and teaching are closely scrutinised, as are pastoral care and the welfare and happiness of the children and their personal development.
Inspectors are trained to look beyond gloss and to seek substance and to distinguish between chance successes and the results of planned strategies and quality activities.
The report consequently contains a wealth of detail which paints a very thorough picture of Marlborough House School.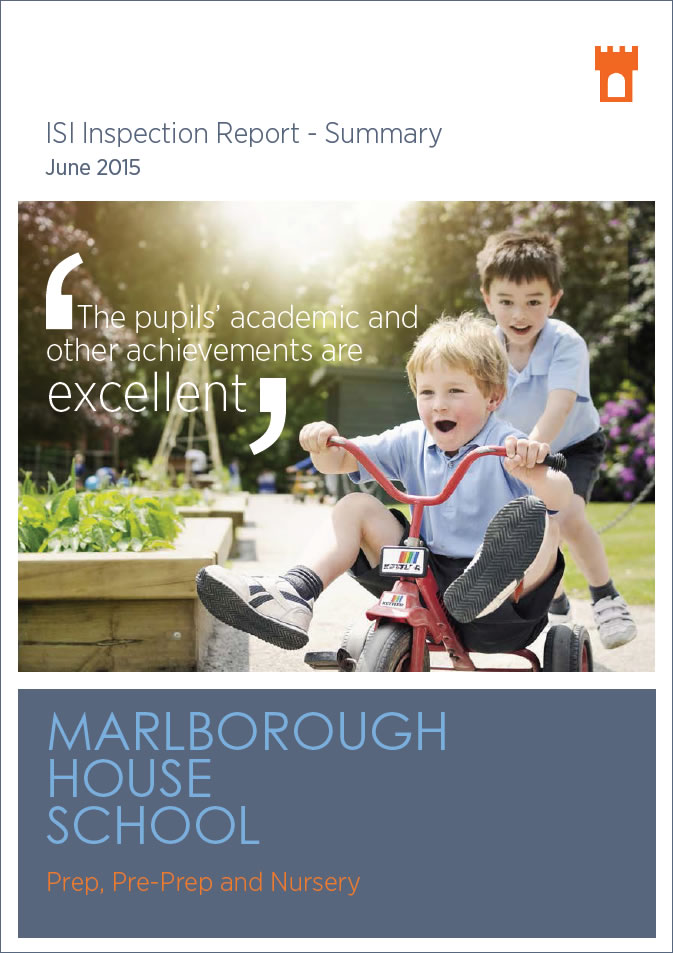 The Independent Schools Inspectorate (ISI) is the body approved by the Secretary of State for the purpose of inspecting schools belonging to the Independent Schools Council (ISC) Association and reporting on compliance with the Education (Independent School Standards) Regulations 2014. ISI is also approved to inspect the Early Years Foundation Stage (EYFS).
Reviews
As a Good Schools Guide and Talk Education School, we receive visits and reviews from their independent inspectors.
Talk Education Review

Please find below the link to our review on the Talk Education website.
The Good Schools Guide Review
Policies
Our Safeguarding and Child Protection Policy, Admissions Policy and Privacy Notice are available to view or download below.
Our Policies
Copies of all our School Policies are available to prospective parents on request, please email registrar@marlboroughhouseschool.co.uk with details of which Policy you would like and we will send you a copy either by email or by post.
Current parents may view all our School Policies on our Parent Portal or request a copy of a Policy from the School Office.
| | |
| --- | --- |
| Admissions | Health and Safety and Organisation |
| Anti-Bullying | Lost Child Procedure |
| Behaviour and Discipline | Medication |
| Complaints* | Privacy Notice |
| Disability (inc Accessibility Plan) | Safeguarding and Child Protection |
| First Aid and Sick Child | Statement for the Safe Use of Children's Photographs |
| Special Educational Needs or Disabilities (SEND) | English as an Additional Language |
| Curriculum | Educational Visits |
| Boarding | IT Acceptable Use |
| PSHEE (SMSC) | Social Media |
| Equal Opportunities Statement | |
*It is a statutory requirement that we report on the number of complaints registered under the formal complaints procedure during the preceding school year and this information is available on request from the School Office.