About Us
Welcome to Marlborough House School. Situated in beautiful, spacious grounds on the edge of the Kentish village of Hawkhurst, Marlborough House is a Prep school for boys and girls aged 2½ to 13 years. Though predominantly a day school, we continue to offer flexi-boarding opportunities for pupils aged 8 and over.
Ever since we moved to Hawkhurst in 1930, there has been a continual programme of development and adaptation of our site and its facilities. Inevitably the slightly ad hoc 'make do and mend' mindset of a hundred years ago has now been replaced with professional project management and strategic studies into future developments but the aim has always been the same; to provide the very best facilities for pupils to enhance and enrich their educational experience at our school.
The school's size is a critical factor in ensuring that pupils get the very best from their time at Marlborough House. It is a deliberate choice to maintain a school roll of under 350 pupils, so that we remain nimble enough to deliver on our promise: to offer a high quality education where the focus can truly be on each individual child. What does this look like on the ground? Every pupil can know and be known by every member of staff; we have enough pupils to make up competitive sports teams but not so many that only the elite are involved and, where the smallest most subtle nuances in a child's development could be easily missed in a larger institution, at Marlborough House they are recognised, rewarded and above all else celebrated.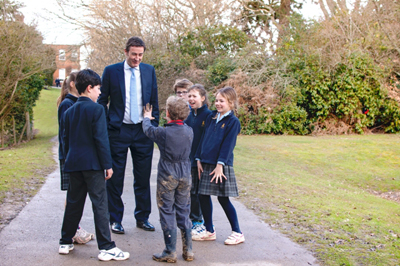 I would like to invite you to come and visit us and witness how proud our children are of their school, from the way they wear their uniforms to how they behave around the school, towards one another and to their teachers. Our pupils are confident, articulate and unrehearsed when they come into contact with prospective parents and this will often trigger a moment of clarity for those looking for evidence of a school's commitment to developing the whole child. From Nursery to Prep School, the happy learning environments where teachers are respected and not feared are organic by-products of our strong belief in the value system we have adopted here. Valuing Self and Others.
Statistics certainly tell the tale of our spectacular academic success but we also put time and resource into focusing on the journey each child takes to achieve success in all its guises, be it in the classroom, on the stage, out in the local community or on the sports field. I believe that achievement without values is an incomplete measure of success which is why at Marlborough House, our values are at the heart of everything we do. At Marlborough House, values are the stars that light the way, so when each child leaves us, not only will they take with them the very best education, but they are equipped with a "life toolbox" that will ensure an immensely rewarding and happy journey through senior school and beyond.
Martyn Ward, Headmaster