Mr Breach, the Best in his Field!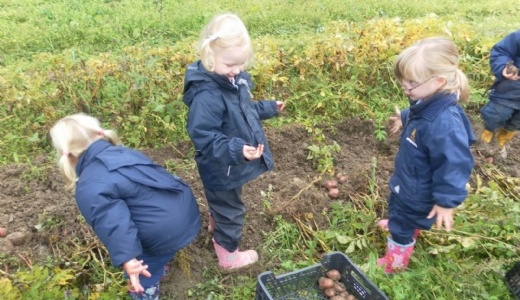 The Nursery children's spirits were not dampened..
... by the dismal weather (though just about everything else was!)as they got wrapped up and headed off in the school minibuses for their trip to Chittenden Farm. The children were met by Mr Breach, the farmer who first took us through the farmyard to visit the potato patch. Sleeves up and wellies on, into the mud they went! With a squelch and a slip the children hunted for some very muddy potatoes, losing the odd boot but never their smiles, filling up trays with lovely pink potatoes as the rain came down.
Then it was off to the poly tunnel next to feast on gorgeous cherry tomatoes before heading to the apple stores and choosing an apple to munch on. Shopping next, the children practised buying vegetables by selected a bag of groceries and sorted out the right money to pay Alison in the farm shop.
Soon it was time to load all the goodies back on to the minibus, complete with a box of now washed potatoes and a bottle of apple juice for everyone.
Thank you as always to Mr Breach and all at Chittenden for such a lovely visit and thanks to our helpers and drivers.
Click on the link to view our photo gallery
http://marlboroughhouse.web9.devwebsite.co.uk/gallery/?pid=207&gcatid=11