Success At Inter-School Debate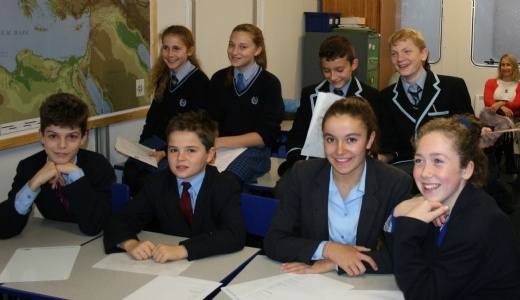 On Thursday last week, four intrepid MHS pupils, blessed with the "gift of the gab"....
... fought their way through wind and rain to arrive at Holmewood House in Tunbridge Wells for the first of this year's Inter-School Debates. Sadly, our fellow debaters from St Ronan's were unable to join us so we were just pitting our wits against Holmewood's seasoned and very erudite debaters. As always, the topics were challenging and thought-provoking. Our girls faced Holmewood Boys in the first round and the proposal up for debate was "Should the Royal Family be abolished?" Our girls were on great form and convincingly won this first round.
Meanwhile our boys were busily exchanging views with Holmewood Girls, both of whom were confident speakers. This debate was "Should Private Schools should be abolished?" There were many valid arguments on both sides of the debate and this was a closely fought competition with Holmewood's Girls narrowly beating our boys in this round.
The second round saw a change of partners, with Holmewood Girls pitted against Marlborough House Girls and our boys pitted against the boys from Holmewood House. These debates were on "University is a waste of time" and "Boarding – a cruelty or a kindness?" Our girls again won this debate with our boys also coming very close to victory against the Holmewood Boys.
As both rounds were so close, the teachers decided to make the final round the deciding round with a group debate involving all 4 pupils from each school debating in teams. This was very challenging as we only had a short amount of time to prepare and needed to ensure that all team members had sufficient arguments. The topic for this deciding round was "Science is more important than Religion" and, inevitably, this was a very heated debate with arguments ranging from the Pope being far more famous and popular than any modern day Scientist and Science being largely responsible for weapons of mass destruction. Our team had to respond to some philosophically challenging questions such as "Which came first – Science or Religion?" or "Who invented Science?" Here our debaters were on excellent form; they worked incredibly well as a team and each member made some powerfully convincing points as well as tackling questions with confidence and conviction. As a result of their great team effort, MHS romped home with the victory!