Outreach Lecture 'Being a Fashion Journalist and Stylist'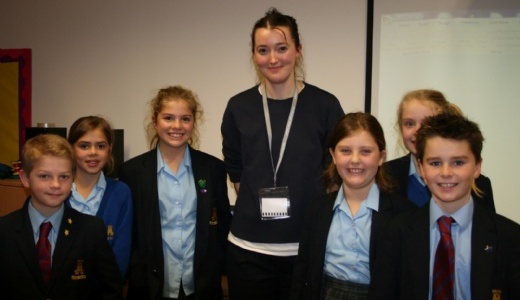 On Tuesday evening Year 5-8 enjoyed hearing about life as a fashion journalist when Camilla Holmes came to talk about her career as a fashion journalist as part of the MHS Outreach Lecture programme.
Camilla talked about her schooling and the subjects that she enjoyed, Art and English, and how, following a period of work experience in a shop in Paddock Wood, she decided that she wanted to pursue a career in Fashion.
She also spoke about how she was turned down the first time she applied to Central St Martins (one of the top Fashion Colleges in the world). However, she was determined to get in – so went away, practised her drawing and taught herself how to cut patterns and sew clothes. When she applied a second time she was accepted. The message being to not give up on your dreams if at first you don't succeed. She also spoke about the need to practice – a question from one of the children was about how they might want to work in fashion but were not very good at drawing. Camilla emphasised that effort and practising will make a difference, very few people are good at things with no effort. Her message was that if you practise and practise you will improve your skills in whatever it might be.
Following unpaid internships she finally secured a job on a magazine as a fashion assistant. She spoke about perseverance, how it is important as we don't always get everything first time. Camilla described her job and said it was hard work and long hours – from sorting out clothes for fashion shoots, to writing news stories, to going to the twice yearly fashion shows around the world. Camilla mentioned that she gets to meet and work with many different people including some famous models such as Naomi Campbell and stars such as David Beckham. Camilla was also keen to let the boys know that fashion was not just for girls, Camilla had studied menswear design and showed a film of her graduation collection which was inspired by football and featured a menswear range.
After the talk Camilla fielded lots of interesting questions from the children.