Year 6 Take in Some Natural History and Hampton Court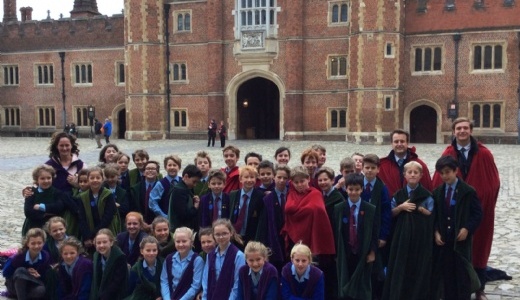 Ethan and Alice tell the story of when Year 6 descended on The Natural History Museum AND Hampton Court Palace all in one day!
Hampton Court Palace
We all started the day by meeting in the old gym, where we were registered, told of the expectations for the day and gathered lunches before whizzing off to the coach! The bus driver did an amazing job of speeding through the traffic and we arrived at Hampton Court bang on time. As we strolled alongside the river Thames, Mr Ridge filled us in on the voyage Henry VIII would have taken as he arrived to Hampton Court and the last journey Anne Boyelyn took on route to the Tower of London! We then divided into groups and explored the Palace, pouring over information on a Young Henry and Catherine, smelling herbs and spices used in the kitchens whilst warming our toes by the roaring roasting fire, and lastly visiting the Great Banqueting Hall and the infamous haunted corridor which supposedly hosts the ghost of Catherine Howard. All that was left was for a quick visit to the gift shop and a classy photo all pupils and staff dressed in Tudor regalia. A scuttle to the coach waiting patiently outside and we were off to the Natural History museum.
The Natural History Museum
After the short journey from Hampton Court, we arrived at the Natural History Museum. We ventured to the 'middle of the earth' for the earthquakes and volcanoes section. After seeing the world maps and tectonic plates, we explored the volcanoes, which had many interesting and interactive displays including a fascinating video. We researched the causes and impacts of specific volcanoes, different types of volcanic rock and even casts from Pompeii. We even got to see a suit that could enable us to go into a volcano and see the mantle up close. Then it was the earthquakes section. This had explanations of why earthquakes happened, the kit you needed to survive and an earthquake simulator. I wouldn't like to have experienced the Kobe earthquake for real in 1995! It was interesting to see the different models shaking in the earthquake to demonstrate how you can 'earthquake-proof' a building and the footage of the Japanese tsunami really brought home how devastating it was.
To see the full photo gallery of the children's VERY busy day click here : http://www.marlboroughhouseschool.co.uk/gallery/?pid=42&gcatid=14&albumid=30