MHS: a Winning Team of Intergalactic Proportions!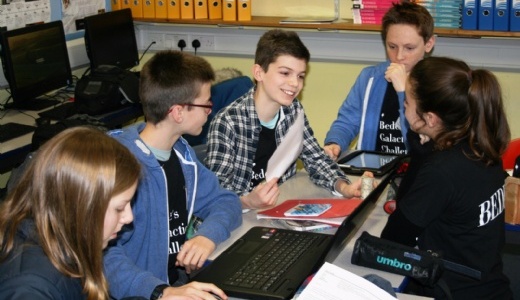 On Saturday 16th January, a team of eight from Years 7 & 8 took part in a Galactic Challenge at St Bede's School - an out-of-this-world challenge which saw 3D printing for repair parts among many other brilliant ideas on the table.
Six Prep Schools were invited and they were combined to form 'companies' of sixteen members; Marlborough House formed an alliance with Brambletye and became 'Columbus Aviation'.
The year is 2065 and the brief was to design, develop, construct and plan operations for a new spaceport in High Earth Orbit to service transferring passengers and cargo to and from interplanetary ships. The Spaceport had to be able to accommodate 600 full-time residents plus an additional 400 at any given time. So, quite straight forward really................in just five hours!
The first job was to elect a team leader and after members presented their case to the group as to why they were worthy of a deciding vote, our very own Isabella G was soon elected President (Project Manager) of Columbus Aviation- a fine choice we think! Throughout the day, Isabella kept her team motivated and on track alongside Vice-President, Amelia D who took charge of the Marketing plans for the their spaceport. With the fabulously artistic Joseph M elected to lead the Structural Design team, it was evident from the outset that Columbus Aviation would be a force to be reckoned with.
Edward C, Harvey W, Olivia R, Max F and Huw M completed the formidable team from MHS and they all worked enthusiastically throughout the day; exchanging wonderfully creative ideas before sensibly debating logistics and costings.
During the morning, the teams got cracking on their designs and research. It was particularly noticeable how well the two schools blended together. It was certainly one of the highlights of the day! After lunch, the 3.00pm deadline loomed and everyone could sense the pressure in the room. Mentored by two senior Boys from St Bede's throughout, Columbus worked like a well-oiled machine, respectful of each member's ideas as well as inputting their own........ in spades! In short, they were all superb and Team MHS was a real credit to the school!
For the final part of the day Isabella, Amelia and Joseph stepped up to deliver their pitch on behalf of Columbus Aviation to a panel of discerning judges (to include an American NASA scientist) and an audience of parents, teachers and friends. A challenging Q and A session at the end kept the presenters on their toes but gave them one last chance to demonstrate just how well-thought out the ideas for their project were.
After the three 'companies' had made their presentations, the judges retired to deliberate on what they had seen and heard. Each company made some impressive designs so we all knew it was going to be a close decision. Columbus Aviation were commended as being the most confident in their oral presentation (that'll be those debating skills the kids have honed over the years!) coupled with Joseph and Huw's fabulously detailed design drawings for their Spaceport.
When the judges returned, they highlighted six notable points from each team before announcing Columbus Aviation the overal winners:
Spoke naturally without any Powerpoint help
Excellent structural design
Crystaline solar panels on the windows
Accurate calculations
Considered alternative gravity levels
3-D printing for repair parts
Huge congratulations to our winners and to all members of Team MHS for shining like stars and making us feel so proud!