If In Doubt ... Start a Debate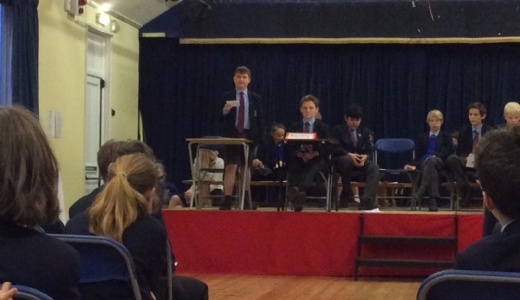 A packed house of parents and pupils eagerly awaited our Year 7 Inter-House Debate on Monday.
First up on stage were the intrepid Tristan B and Oscar for Hawkings who were debating against Arthur and Edward for Awdry. Following some excellent introductions by the moderators Ricardo, Max, Lucas and Harry, our fearsome four attempted to defend or attack the invasion of A.I. (Artificial Intelligence) in the workplace, debating on whether "Should Robots Be Allowed to Take Over Our Jobs?"
First to speak was Edward whose dramatic introduction painted a frightening futuristic forecast of a world ruled by dangerous demons intent on world domination. He was swiftly countered by Tristan who reassured us that there was more to gain than fear from the aid of AI with compelling examples such as RoboCops and the benefit to the workplace of having reliable machines which could work round the clock and would not be off sick with ailments such as bad backs!
Arthur strongly rebutted these claims and caused us to pause for thought with his statistics on the impact on our carbon footprint, also adding some sobering statistics about robots' fallibility, the terrors of malfunctioning robots and even the threat of nuclear war as a result of rogue warheads.
Thankfully we had Oscar to reassure us about more environmentally friendly future power sources for robots and remind us of the benefits to be gained by improved productivity and the future potential for us all to own cars and our own homes upon leaving school -undoubtedly a very tempting prospect for many of our pupils.
Our next team of debaters for Dunbar and Egan took to the stage to debate the very topical issue of whether "Should Police Carry Guns?". Harry confidently introduced both the debate and Mia , whilst Tilly, Jessica and Harry all gave us an interesting insight into the hobbies and talents of our other debaters: Alice, Lily and Tristan H .
Mia was the first to speak and, despite this daunting prospect, she spoke very well with good eye contact, compelling facts and statistics and some very valid points about the dangers posed to our police by heavily armed criminals. Tristan countered some of Mia's claims and came armed with a range of facts and figures to support his arguments - particularly the concerns about the effect an armed police force might have in contributing to an increase in gun related crimes.
Alice was able to rebut Tristan's points with a very poignant plea to consider which was more valuable: a life or money? She had some super statistics, read her speech very well and made some very persuasive points about law enforcement and the slower response times we are now faced with. She also made a very relevant link to the recent attacks in Paris.
Lily rounded up the evening with her strongly argued speech on the frightening and intimidating effect which an armed police force would have on our society; historically they have been regarded as trusted members of our society to whom we can turn in times of trouble. Would this still be the case when heavily armed? She cited the value of tazers and negotiation as more reasonable solutions to our policing problems. Her thoughtful and considered responses to some challenging questions were also very commendable.
Following the counting of all the votes the house with the greatest swing of votes on the night was Dunbar's Mia and Alice who gained an extra 27 votes.
Congratulations to all our eloquent and well prepared debaters, our moderators who helped keep us all on track and spoke so well, our critics in the audience and to many staff members for their support, particularly Mrs Archer for the help and guidance given to her debaters.