Year 8 Latin pupils visit Fishbourne Roman Palace ....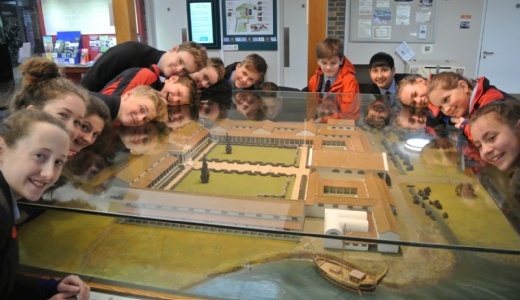 Year 8, as part of their hands-on Roman Britain course, went to the site of the Roman Palace at Fishbourne this week.
Year 8, as part of their hands-on Roman Britain course, went to the site of the Roman Palace at Fishbourne this week. This unique site was lost for nearly 2000 years and found when digging up a field to lay new water pipes. It turned out to be one of the most iconic sites linked to the 2nd Roman Invasion called for by Emperor Claudius. The pupils' response to the sheer scale of the site was most gratifying as Mrs Budd hoped there would be that 'wow factor'. It came when they were told that this Palace's footprint, at the height of its development, was larger than that of Buckingham Palace. One pupil's exclamation at this point was "that was some bribe!". An accurate claim, as this was indeed a bribe to a Celtic 'client' King in return for his and the tribes of the south's loyalty to the Empire.
Our pupils were then treated to a hands on experience in the archive building where groups were handed trays of artefacts that had been dug up on site or from the gardens of surrounding houses and were asked to work out what the objects had been and how they had been used. They had pottery, shells, stone and even glass from all eras of the site's existence. Their answers were erudite and funny and the archivist was very pleased with their responses and manners! Interestingly, the group with the glass fragment guessed it had formed a piece from a window but were reluctant to stick their necks out as it was opaque. They were reassured that it was a good guess and that a few windows were glass as early as 2nd century - another sign of the wealth of this Celtic family.
Two pupils volunteered to be dressed as a wealthy youngsters from the early period and Jack found out how long it took to put a toga on properly and just how much material was involved. They then viewed the West wing and its sheer size and scale was again an experience they can only gain from visits such as this. The mosaics are some of the best in the country and the central heating was extensive - essential for Roman visitors to this King, who were usually less than impressed by the climate at the western end of the Empire!
Finally, and for many the most memorable experience, was tasting authentic food put on for them by a volunteer classicist and archaeologist with an interest in this particular aspect of Roman life. Their reactions were mixed; the bread (cooked as it would have been in a Roman oven) received a thumbs up but the white wine sauce was "nothing short of disgusting!" (a quote!). Mrs Budd was given a recipe pack for use back at school - so watch out Year 8 she intends to make 'garum' sauce quite soon.
This was an invaluable experience and one which certainly helped Year 8 to appreciate the 'hearts and minds' aspect of the Roman Empire - it was not all servitude and death!
Please click here to see the photos of the visit http://www.marlboroughhouseschool.co.uk/gallery/Default.asp?pid=42&gcatid=14&albumid=50&postLogin=true