Year 7 head to the Olympic Park .....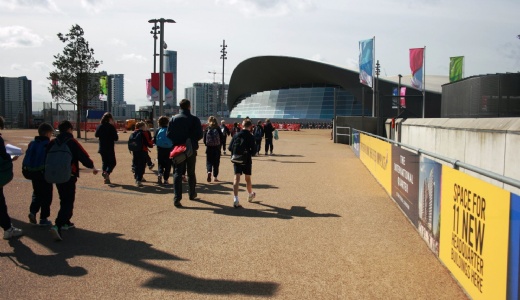 Thank you to Olivia for the write up below ......
Last Friday we went to London to visit East Village in the Olympic Park. At first 7F and 7R had a talk about what they would be seeing, discussing and analysing to decide for themselves if London 2012 had left a sustainable legacy. The groups split and 7F went off straight into the Olympic Park, discussing and observing how the buildings were sustainable, even after the Olympics, and looking at how the local community used the amazing sporting facilities and public spaces. Meanwhile, 7R walked around Hackney Wick, a nearby borough that had not benefitted from the Olympic legacy, where they undertook surveys about the area, judging the transport, public facilities and other aspects. They found out that East Village was a great place to live compared to the surrounding area of Hackney Wick. They also visited the energy centre which uses renewable woodchip energy sources to provide combined hot water and electricity for East Village and all of the other Olympic facilities. They also got to generate electricity themselves, just by riding a bike!
After eating a delicious lunch and burning it off in the play park, they set off into East Village to survey local people who live there. They also studied the different aspects, such as the provision of public transport, cycle facilities, parking, schools, health centres, space for wildlife, homes and shops that East Village provide and what this does to the local community. In 7F's survey one of the only negative comments about East Village was that it did not have a fast food shop!
During the course of the day Year 7 developed many geographical skills as they had to fill in worksheets, annotate maps, complete land use maps, survey local people and much more. My favourite part was when we went into the velodrome and saw some people training on it. I also really enjoyed going on the playgrounds. On behalf of Year 7 can I thank all the kitchen staff for providing an excellent lunch and the staff who came with us: Mrs Fox, Mr P and especially to Mr Kimber who made geography come alive!