"Off with their Heads!"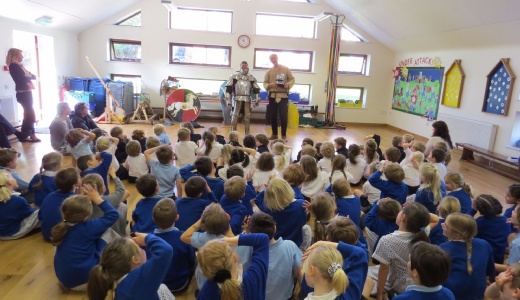 Did you hear the clash of swords in the Pre-Prep this week? Or the rumble of a castle under siege? That was 'Sir Teachalot', a medieval knight, storming the Hopkins Hall.
Supporting our whole Pre-Prep topic of Medieval Magic, Sir Teachalot showed us weapons and armour through the ages. Did you know that knights raising their helmet visor is why we have saluting today? Mrs Saunders demonstrated admirably what a knight would wear to battle – she said it was very hot and heavy. And not wanting to be left out, Mrs Willet became a crying dragon, devastated that she'd lost her princess (it all turned out happy in the end) in Sir Teachalot's beautiful story.
We trained to become squires, riding horses, we built and besieged a castle with a trebuchet and we tried our hand at jousting. And fortunately, despite Sir Teachalot's best efforts, all the children kept their heads attached to their shoulders!