Year 7 go into Battle!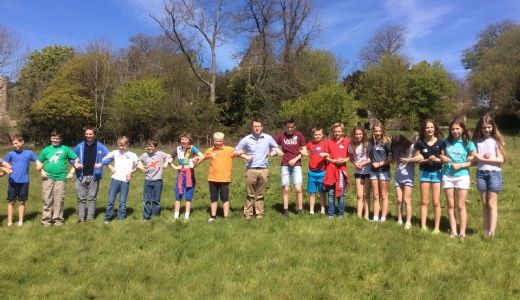 Many thanks to Jonathan for his write up on this most exciting trip ..............
After the long and perilous (half an hour!) journey from school, we came to the main Battle square, went to the main gate and waited to be let in. We reluctantly ignored our desire to flood the Gift Shop and went to the Visitors' Centre where we watched a video on the Battle and tested the weight of Norman and Saxon swords.
Later, when we left, we made our way to the battlefield where we re-enacted the Battle. Mrs Stockham and Mr King's group (which I was in) stayed at the bottom of the hill and the rest went to the top. A blood-thirsty Theo charged his way up the hill (as Talifer) with the rest of us bulleting towards the enemy. When we swapped round, a half-hearted Will riding a majestic stallion (Beau!) started the battle as we crushed them flat.
We then split into separate groups exploring the gatehouse, the monks' home and the Abbey itself, filling out a worksheet as we went.
After a packed lunch in the playground and a trip to the Gift Shop, we embarked on a journey around the ancient parts of Battle Abbey School, led by a legitimate monk (kind of!). He told us a story of the largest single canvas painting in England (which was in the Main Hall), where it was rolled around a flag pole and put under a museum floor for 20 years, only to be discovered when the museum was renovated.
Finally, after a long, tiring, but exciting day of resisting the temptation of running 3 miles down the road to my snug, comfy home instead of going back to school and doing Prep (I live near Battle!), we loaded ourselves onto the bus and returned to school.
Thank you to Mr Ridge, Mr Kimber, Mrs Stockham and Mr King for accompanying the us on this trip.
Click here to see the full photo gallery http://www.marlboroughhouseschool.co.uk/gallery/?pid=42&gcatid=14&albumid=55