Year 2 take to the Stage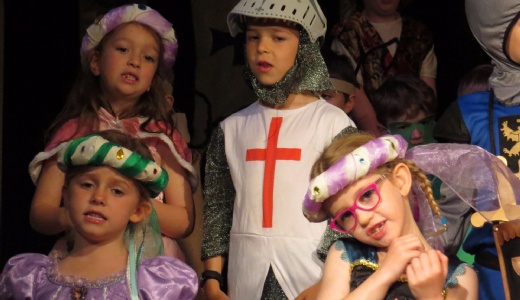 As a grand finale to our Medieval Magic Topic, the lights came up on the Pre-Prep production of The Lonely Dragon this week.
Otto led the action in the title role as Hector and astounded us all with his confident acting and excellent use of voice as he cried his way along the journey. The Reception classes shone as more ferocious dragons and entertained us with their fantastic singing and energetic dancing. Year 1 accompanied all the singing with a range of instruments, keeping to the beat beautifully. The stage was a riot of colour and smiles when 1B took their places as Lords and Ladies at the Royal Ball. The children clearly enjoyed themselves and gave it their all. 1W performed a rendition of 'Castle on a Cloud' with such emotion that it brought a tear to the eye. In the speaking parts Year 2 drove the action with clear characterisations and a sense of pride.
Everyone looked amazing in an array of incredible costumes led so well by Miss Page who deserves a special mention. Thanks must also go to Mrs Withey-Harrison for the high quality singing and fun that she brings to our shows, Mr Turner for the lighting and the wonderful team of staff that make up the Pre-Prep.
This was Mrs Saunders' final production after 41 years at Marlborough House and what a show to end on. We thank her for all her memorable productions throughout the years and commend her on her creativity, energy, dedication and love.
Please click here to see the Gallery of photos http://www.marlboroughhouseschool.co.uk/gallery/?pid=42&gcatid=14&albumid=56