Year 6 write and perform their own informal plays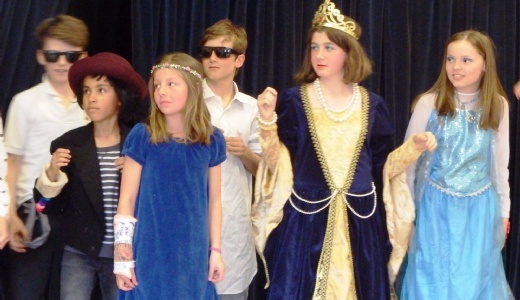 Our Year 6 children have been exceptionally busy harnessing their creativity in the form of their informal plays.
With a simple brief - to deconstruct and re-tell fairy tales - the children wrote, cast, directed and, ultimately, performed in their own pieces of theatre.
Four plays were produced in total. 6K re-invented Wonderland with 'Alex in Wonderland'. 6R produced two plays: 'The Wolf Cops It!' (Little Red Riding Hood) and 'The Story of Sophie White' (Snow White). 6J merged themes and characters from many of the well-known children's stories in their play 'Before Bedtime'.
The plays were informal, the children had no sets, musical accompaniment or lights to help create atmosphere, but regardless of this, the commitment of their performances was enough to make the plays enthralling, captivating and inspirational for the younger pupils.
The morning's entertainment was well supported and hugely appreciated by parents, Governors, members of staff and the children of Year 4 and 5.
The plays did not arrive at the stage without a few casualties. Isobel sadly caught chickenpox but Oscar and Milly stepped up and made sure her part was covered. In 6J, Matilda was told to break a leg - she decided to break her wrist instead! But the show had to go on and Matilda acted her role with real spirit!
The morning was a great success and with so many competent performers really taking their opportunity to shine, the future looks bright for drama at MHS.
Please click here to see the Gallery of photos - http://www.marlboroughhouseschool.co.uk/gallery/?pid=42&gcatid=14&albumid=57