Dunbar Fete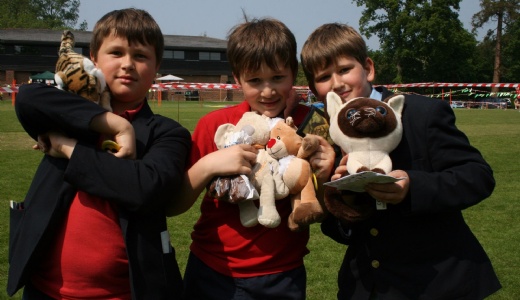 The inaugural Dunbar Fete was held on a warm and sunny Friday 27th May.
After weeks of planning and a small army of "fete-makers" the event was a great success on three fronts: the whole school community came together, children had lots of fun with their friends and we raised a magnificent £1484.46 for charity! While Dunbar's chosen charity was Hospice in the Weald, the money will be pooled and shared equally between the four House charities, once all House fundraising activities are complete in October.
There are too many people to thank by name, but there were a lot of Dunbar parents who went the extra mile in preparing their stalls; the middle school children who helped Mrs Robinson make 20 miles of bunting and the ground staff who helped set up some of the stalls. Most importantly, it was everyone who took part, smiled and spent their well-earned pocket money - on throwing wet sponges at teachers, wooden balls at coconuts or wellies through the air; or having their face painted; or buying a recycled cuddly toy, or a cake, or an ice cream – that really made this wonderful day happen. Mr Payne-Cook and the whole of Dunbar are grateful to the whole school for embracing what was a very happy way to end the first half of the summer term.
Four moments will stick in the memory for a long time: the Year 8 and staff wheelbarrow races; Mr Kimber and Mr Ridge (who dressed up for the occasion!) getting soaked in the village stocks; the Pre-Prep children enjoying Mr Mathers' magical obstacle race and groups of happy children sitting calmly chatting in the sunshine while eating sweets from their filled jam jars!
The afternoon was master-minded by Mr Payne-Cook and huge thanks and congratulations go to him for all the work in bringing the fete together.
A great afternoon was had by all. We must now turn our attention to Hawkings' noble intention to swim the English Channel for charity.
What a wonderfully happy and charitable place MHS can be…
Current parents please click here to see the full Gallery of photos -
http://www.marlboroughhouseschool.co.uk/gallery/?pid=42&gcatid=14&albumid=59