MHS teachers visit schools in Rwanda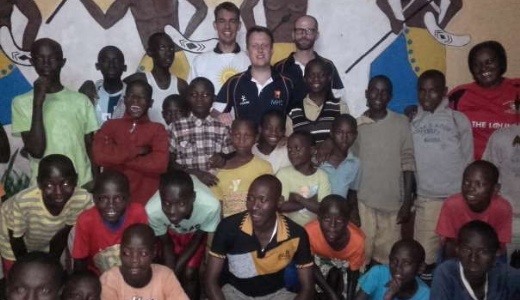 Over the Half Term break, Mr Kimber, Mr Reid and Mr Ridge visited the work of one of the school's chosen charities, Rwanda Aid.
Mr Kimber worked for the charity prior to joining MHS and he showed his colleagues around some of the country. He took them to a school where one of his previous mentees taught a fantastic maths lesson, despite the severe lack of resources.
Mr Reid and Mr Ridge saw for themselves the valuable work the charity is doing to train the local teachers and the mentor programme that has grown and developed since Mr Kimber initiated the pilot scheme. They also taught the children "Heads, shoulders, knees and toes", much to the students' amusement! During the trip, they visited the charity's village for street children. Thirty young boys are housed, clothed, fed and supported to help keep them from the streets. They are often at risk of abuse and the charity offers them security, educational support and a home. The aim is to reintegrate each young person back to their families, once their safety and welfare is assured. Despite their difficulties, the street children were still able to give the MHS teachers a run for their money on the football pitch!
It was a wonderful trip that also included time for a safari and an intrepid 2-day kayaking trip, with an electrical storm like no other! The teachers have now returned safely to MHS but with memories to last a lifetime and a valuable insight into the inspiring work of Rwanda Aid.
For more information on the charity please visit: http://rwanda-aid.org/get-involved/#donate