MHS Under the Stars 2016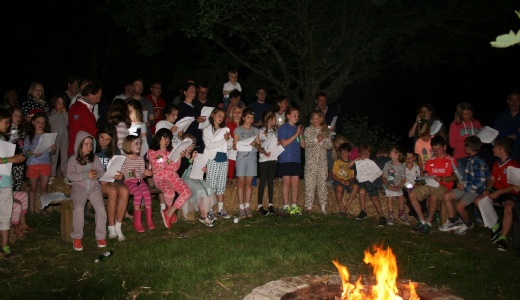 On a beautifully warm evening, 300 people enjoyed the excitement of the inaugural 'MHS under the Stars'.
The grounds looked magical with gazebos, bunting and lights decorating the trees for which the Friends of MHS would like to thank the grounds team.
The 120 people camping set up their tents and positioned their camping chairs to enjoy the night. There was much competition for the best dressed tent with fairy lights, bunting and inflatables. Around the tents, a group of children set up an impromptu cricket match which lasted almost all evening.
The evening started with an enthusiastic display of Maypole dancing. As predicted the queues for face painting were long and the wait was worth it with brilliant decorations from the army of face painters. Pony rides were very popular and offered the children a different way to view the school grounds. The interactive retelling of Superworm enchanted children and adults alike - a very delightful start to the evening.
As the campers settled in for their dinner of Hog Roast the live music started. The games were great fun with timed skipping , King of the Court and penalty shoot outs. The Tug of War was spectacular and did look as if most of the 300 people were part of it at some point. Blockx, a five piece band, played for 2 hours solidly a mix of music which got everyone dancing, although it has to be said that the adults seemed to prefer dancing as the sun went down and it was darker!
Then amazingly it was time for the evening guests to head home and the campers to get a welcome hot chocolate. Then it was on to the camp fire for all the campers and a fantastic singalong with a selection ofclassics like Ging Gang Goolie to The Monkees. All of which were enthusiastically sung at top volume by the campers.
It was time to tuck up in the tents. Some slept better than others! And the bacon butties at 6.30am were very welcome.
MHS Under the Stars 2016 was a fabulous success and an enjoyable night for all involved.