Year 4 Drawn to Nature at Great Dixter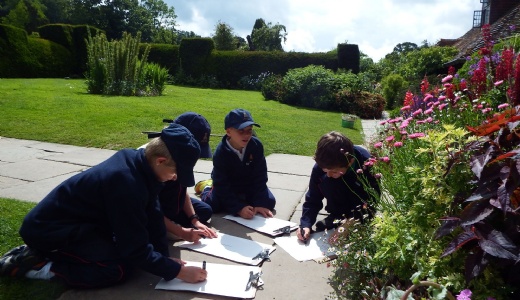 Our Day of Arts and Crafts in the Sunshine by Year 4
We set off to Great Dixter on Tuesday, a lovely sunny day. When we arrived, our information guides, Catherine and Becky, took us to the education centre. We discovered that Christopher Lloyd lived at Great Dixter, he started the beautiful garden there and he received an OBE for services to gardening. He was the youngest of six children and had loved plants and gardening since he was tiny.
The house was first built in 1210 so it was very old. It was transformed from a dirty old farmhouse to a house and magical garden.
After our talk we left the education centre and went to the beautiful gardens where we drew flowers. We then went back to the education centre were we drew our flowers on to polystyrene tiles and printed them on paper using paint and a roller. We all thoroughly enjoyed this activity and the finished effect was stunning.
Before lunch we headed to a grassy meadow in the rolling countryside where we listened to an enthralling story about seed dispersal told by Becky in a very animated way. Suddenly we were all transported on the wind and pretended we were twirling and swirling, just as a seed would do.
Later in the afternoon, after cracking eggs and mixing milk and flour together to make a batter we set off for the forest. On the way we hunted for the 'Little People' who had homes in the woods. We eventually arrived at a clearing in the woods were we set about collecting wood for the fire. Our batter was turned into the most delicious pancakes which we cooked over the roaring fire. Some of us whittled wood into kazoos and others made forts for the 'Little People' of the enchanted woods. It was a lovely day, we packed so much in and the weather was very kind to us.
A big thank you to Mrs Taylor for organising the trip, to Mrs Mathers for leading it, Mrs Atkins, Mrs Robinson and Mrs Whiteley for driving and accompanying us. A special thank you to Mrs Hanna and Mrs Quitmann who were our Mum helpers.