Prep School Poetry Evening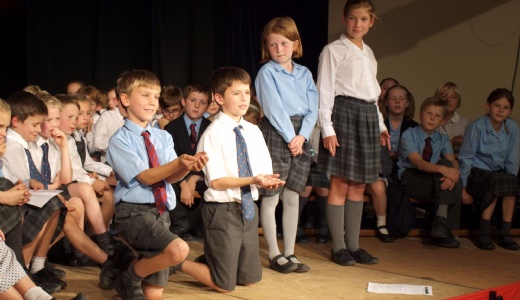 A wonderful evening of poetry ...................
This year's ever popular Poetry Celebration leapt into life with a real buzz as all of Year 4 took to the stage to perform their wonderful version of T. S. Eliot's classic poem, Skimbleshanks, the Railway Cat. Year 4 were in fantastic form with their lovely clear recital, some super character acting and a great sense of performance, giving the audience a visual and aural treat. The packed hall then quietened down to a hush as our individual participants took to the stage.

We had a wonderful selection of poems old and new; funny and tragic; dramatic and downright daft! From feline friends to magical creatures; old time favourites with a little singing thrown in; poems about suspect snacks – including cannibalism of the nasty neighbours; the perennially popular ponderings on teachers and their mysterious ways; including the odd moustache or two!

We heard about food fads and musings on mysterious objects from microbes, balloons and "Thingamybobs". We even met a Plughole Monster and The Young man of Dundee who was stuck in a tree and had a lesson or two in French along the way!
Some very little people took their courage in their hands facing the packed auditorium and the torturous lights to give their renditions of some very special poems. The fantastic selection of individual poems was punctuated by moments of high drama at sea as each of the Year 6 classes performed their own compositions in the form of some tremendous Sea Shanty Storm poems; all delivered with power and drama and showcasing their great writing talents.
It is impossible to single out individual people for particular praise as ALL the children did a fantastic job and as ever their parents and teachers were willing them on and were so impressed by their wonderful performances, beautiful supportive behaviour and the enormous amount of fun that they brought to the proceedings. Congratulations to everyone and huge thanks from Mrs Atkins to all the teachers for their help and support, particularly Miss Davis and Mrs Mathers for the Year 4 poems; Mrs Archer, Mr Little and Mrs Lodge for the Year 6 Sea poems. Well done all!