Year 4 is evacuated to Horton Kirby!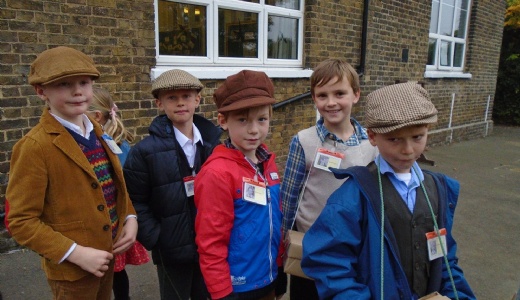 On a misty November morning, Year 4 were evacuated to the small country village of Horton Kirby. It was with much excitement that we said farewell to parents and boarded a bus to the unknown!
Upon arrival we were greeted by the Home Guard in the form of Mr Berry, who was our leader for the day. The children, who looked splendid in their evacuee outfits, heard all about how the buildings would have looked in 1940. We heard all about a cheeky young resident called Peter, whose antics shocked us all! He had to share his school with children who were evacuated from London and were known as 'The Townies'.
Walking around the village, the children were detectives, looking for evidence of World War 2 and imagining what it would have been like to be away from families and friends in a totally new and potentially dangerous environment.
After a delicious lunch (thank you to the kitchen!), we were ready for some playtime 1940s style. A big group of boys played cricket with chalk stumps, whilst others preferred marbles, cup and ball or the popular hoop and stick. Fun was had by all.
Lessons began in the school room with a very strict headmaster, Mr Tanner, who looked a lot like Mr Berry – hmmm. Once we had worked out shillings and pence, we looked to see if we could distinguish between enemy and friendly aircraft.
Unfortunately, our First Aid lesson was interrupted by the air raid siren and we made a hasty retreat to the air raid shelter where we huddled together and sang songs to keep our spirits up.
After the 'all clear' was sounded we had incendiary bombs to deal with! Luckily we were all very good putting the fire out with the stirrup pump. Sadly, the modern world beckoned, and as the coach arrived our weary evacuees waved goodbye to Mr Tanner (or was it Mr Berry?) and thanked him for a wonderful day.
Thank you to Mrs Mathers for a wonderfully organised trip and to Miss Davies, Mrs Whiteley and Mr King for all their support. A huge thank you to all the parents for all the costumes, gas masks(!) and gas mask boxes.
To view the full gallery click here