Year 6 History and Geography Trip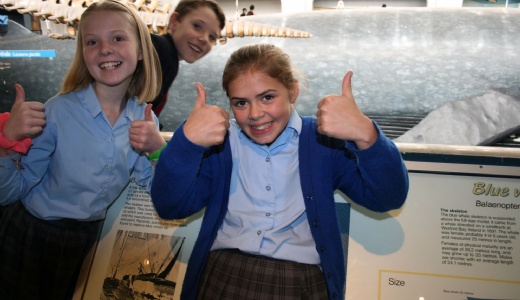 The Year 6 pupils had a wonderful day in London last week visiting the Natural History Museum and The Tower of London.
Written by Jack, Year 6
After a long but enjoyable train ride, we arrived at the Natural History Museum. We walked into the massive Museum, all in awe of the dinosaur greeting us in the main hall! We went up an amazing escalator, which went right through a sculpture of the earth, to the 'Volcanoes and Earthquakes' area. The first room was about volcanoes and it even had a screen where you could create your own volcano! The second room told you all about earthquakes and how devastating they could be. We then went into the earthquake simulator, where the floor shook and the lights went out! A little later, we walked across to the Attenborough Studio where a man called Eddie gave us a talk about volcanoes and earthquakes in a lot more depth. We watched a demonstration about the mantle which, when put under a lot of pressure is a solid, but when the pressure is less, it is a liquid. This is why the crust can float on top of the mantle. We walked to the Schools Centre via the whale gallery, where we saw a huge sperm whale model in the centre. I think everyone was even more amazed by the sperm whale than the dinosaurs!
After a scrumptious meal, we all set off on the tube for Tower Hill. As we got off, we could see the imposing walls of the Tower of London. We all dispersed into different groups to go to the main sites. My group started at the Crown Jewels. The golden sparkles on the crowns were very beautiful. In the last room, we could see the cases of some of the objects on display. The next thing we did was to go to the Torture section, where we saw racks that they used to stretch people and a strange item known as the 'Scavenger's daughter', which crushed people. Gory! Our next destination was the White Tower itself. We went up all of the steps to the entrance, which was rather tiring. We thoroughly explored the most famous part of the castle, before going to the shop with our money, to see if we wanted to buy any souvenirs. We walked across Tower Bridge, to the train station, where we boarded a very cramped, homeward- bound train. It was a fantastic day out that can't be missed!
By Jack van den Heuvel
Current parents please click here to see the Gallery of photos