Galactic Challenge Victory!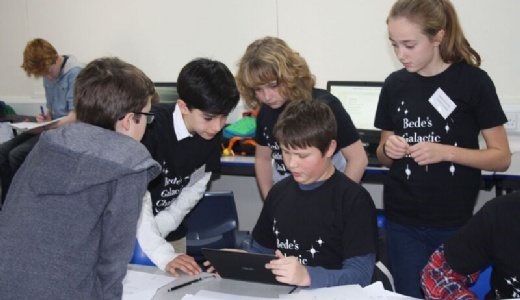 For the second year running, pupils from MHS were part of the winning team in the Bede's Galectic Challenge!
On Saturday, a team of Year 7 and 8 pupils comprising Ricardo, Edward, Arthur, Oliver, Henry, Maddie, Alex, Kamran and Grace took part in the Bede's Galactic Challenge.
Their brief or challenge was as follows:
'It is 2087 and you have to design a mining base on mercury to mine for a fictitious metal called Reardonium'
Their company, 'Columbus Aviation' was made up from our nine pupils and fourteen from other local schools and therefore learning how to collaborate and communicate with others was also part of the challenge. The team divided up into groups to think/design/research about the structural engineering (the base), operations engineering (transport, security, facilities), human engineering (living space, recreation, etc) and automation engineering (robots). Out of the twenty three in the company, Edward was chosen as the President. They were given five hours to do all of this (thinking outside the box!) and prepare a presentation of ten minutes in front of a panel of judges. There were three companies and they all came up with some highly imaginative ideas.
The winning team was Columbus Aviation (!) – this is the second consecutive year that we have won this competition.