Year 7 pupils teach Year 2 about the Polar Regions!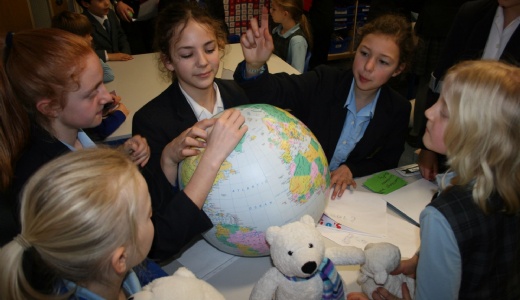 This week our Year 7 pupils have been teaching the Year 2's about the geography of the Polar Regions (the Year 2 Topic for this half of term) and how animals (e.g. polar bears and penguins) have adapted to it.
They taught them in a carousel, whereby small groups of Year 2's had a few minutes with each group of Year 7's.
A few quotes from the Year 2 children -
'I found out that polar bears had black skin to absorb the sun's warming rays'
'Around 6000 penguins huddle together to keep warm'
'Polar bears have blubber and it is 10cms thick'
And from the 'teachers' ie Year 7! -
'Providing games really helped the Year 2's learn the facts'
'Having teddies worked well, they helped demonstrate'
'I wouldn't be able to last all day as a teacher!'
'My teaching improved throughout the session'
In addition to forging links between the Prep School and the Pre-Prep, the younger children loved learning from their older peers and the Year 7's developed their teamwork and communication skills. A win-win situation!