Our Year 4 Pupils Get Arty at the Maidstone Museum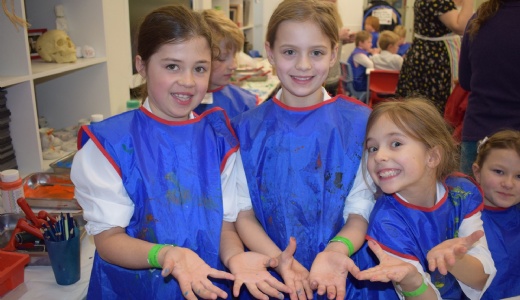 On Wednesday, our Year 4 children set out to Maidstone Museum on a wonderful voyage of discovery.
The aim of the trip was to see the superb etchings of a local artist called Graham Clarke who is a very popular, world-renowned print maker. On arrival, we found a very smart looking building that was light and airy so we all eagerly went inside. After introducing ourselves to our Guide, we climbed a carpeted stairway to the exhibition, opened the door and what a feast met our eyes!
Every wall was covered in prints created by Mr Clarke, there was so much to take in, as there was so much to see. Etchings on every subject from the building of Stonehenge, the Battle of Trafalgar, Shakespeare's Globe, to local scenes of Kent life and further afield. All the pictures had the most marvellous attention to detail and we all found them fascinating.
We went back to the art room where we had the chance to create our own prints using card, rollers, printing ink and polystyrene. It was very interesting making our own prints whilst thinking of all the people, animals, fish and places we had seen in the etchings and then try to recreate these in our own work. Eventually the art room was covered in colourful prints of trees, ships, houses, fish, moons, stars… we had been so inspired.
In the afternoon we took our own sketchbooks into the exhibition, we had to find anything we liked from Graham Clarke's work and draw it ourselves. There was so much to choose from it was hard to decide. Soon the whole Gallery had a calm hush descend upon it as we all sketched and sketched, totally absorbed.
We all thoroughly enjoyed the trip, we learnt so much about etching and printmaking!