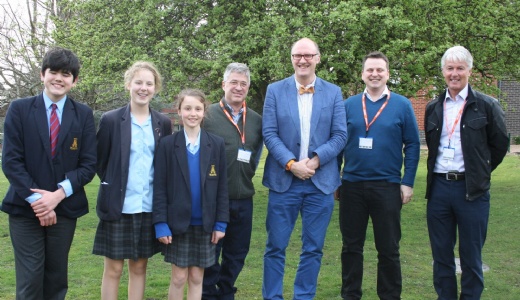 A huge thank you to Jed in Year 8 for this write up on our first ever Creativity and Innovation Conference
Thursday 23rd March marked the first Creativity and Innovation speeches at this school. It was organised by Mr Payne-Cook, and consisted of speeches from Year 8 pupils as well as three fantastic guests. We welcomed pupils from Mayfield, Dulwich and Bethany, as well as Years 7, 8and a few year 6s from Marlborough House. Lily, an MHS Year 8 pupil, opened the afternoon with a 12 year old's view of creativity and innovation in schools. She showed which subjects she thought were creative; art and DT, with English a mixture between hard academics and creativity. She also thought that "you can't force creativity", which I thought was a good quote to take in. Mr Payne-Cook then gave us the opportunity to play the Invention or Innovation game, where the audience decided whether a particular thing was an innovation or an invention, the iPhone 7 being one example. He also told us that creativity comes from nature, nurture and the environment you live in, agreeing with Lily when he said you can't teach creativity, but can encourage it. Finally, he read us the poem 'The little boy' by Helen Buckley, which asked the question "Do schools stifle creativity?", with Mr P-C saying that in the middle of helping individual passions and cramming children with facts is about right.
After that, we were introduced to our first guest speaker, Dr Tommy Dolan, a former senior leader in Pfizer, who spoke about the journey to creating a new medicine. He started with a touching story about a boy who had about 5 minutes to live. Doctors decided to try an untested medicine on the boy, and he is still alive today. He told us that it takes about 500,000 experiments to get to a new medicine and so investment, collaboration and perseverance are needed. Finally, he announced the dawn of personalised medicine, and showed us a young boy who had his blindness cured by that said treatment. After Dr Tommy Dolan, we heard from two Year 8 pupils, Olivia and Ricardo, also MHS Year 8 pupils, who spoke about the very interesting topic of green parks which could "convert fun into energy". These are parks that, when used, generate power; with cycles, gym equipment and swings to name just a few. The kinetic energy generated by the use of these is converted into electrical energy. There is an app to go along with this idea that reads how much you use certain pieces of equipment and therefore release energy into your supply. The app could also work with an additional wristband. The idea was to start in five big cities and then spread around the world. Olivia and Ricardo managed to answer very tough questions very well, with the guest speakers themselves asking questions!
Then we heard from our second guest, Andy Puncher, who talked about creativity in the world of architecture. He explained that architecture is building ideas, and holds "new ways of creativity". He showed us many examples of creative architecture, for instance a house with sliding walls to allow more light and "molehills" that allowed light into underground offices. He also showed us a building that was covered in ivy to make it look natural, and that held bird and bat boxes to help migrating nature. He showed us "the milkshake tree" which was put in London for about 3 months. It was a tree that was scented with substances like strawberries, and it helped autistic children as well as the general public. He showed us that he incorporates light into almost every project that he works on. Finally we heard from a parent at MHS, Dr Gary McKay, who works for NASA on remote sensing and satellites. He told the audience that the scene at the beginning of the film 'The Martian' was, surprisingly, not special effects but a real camera angle! He works on telecommunication through the vacuum of space and said "There are no rules; we're trying to get something done". Then Dr McKay showed us a video of Chuck Berry, who played the guitar for the first time in Britain, and told us that that too was innovation. Finally, he agreed with Lily and Mr P-C, as he too said that you can't teach creativity, but finished by saying that there are "no rules for ideas". Overall, the guest speakers said that curriculum is needed in schools, but flexibility is needed too. The whole afternoon was a great success and thank you to the guest speakers, Lily, Olivia and Ricardo for speaking and finally Mr Payne-Cook for organising the whole thing and for speaking as well.