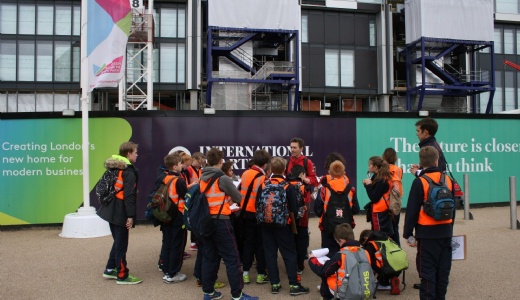 Last week our Year 7 pupils made their way to the Olympic Stadium in London for a Geography trip.
Their aim for the day was to investigate whether the claim of being the most sustainable Olympic Games ever was true. The focus was on East Village, formerly the accommodation used by the athletes, to see if the refurbished flats really were sustainable. Within walking distance of the flats were many affordable leisure activities, such as the two Olympic swimming pools, velodrome, tennis courts and hockey pitches and it's a great location for West Ham fans! There is also an enormous shopping centre, with all your daily needs, as well as a health centre and school within just a short walk. It was an amazing place to visit and it certainly didn't feel like they were so close to central London with all the green space around it. However, there were plenty of great transport links close by that can even take you to France. The children were able to compare it to Hackney Wick, which hadn't benefitted from the regeneration, to see what the area was like before the Olympic redevelopment. It was certainly an eye opener and a huge contrast!
Interviewing local residents and finding out how much they enjoyed living in the Olympic Park was great fun, but it was interesting to hear that they aren't too happy with all the construction in the area that is due to continue until 2030. All in all it was a fabulous day!