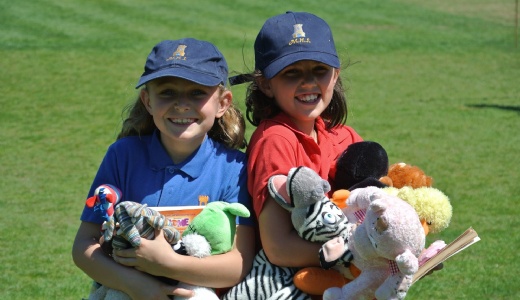 We had a wonderful hot and sunny day for the Dunbar Fete and Egan Dog Show!
The fete was blessed with a hot, sunny day – perfect for cooling down naughty teachers with wet sponges! Children really enjoyed the coconut shy and crockery smash (new for this year) and loved buying jam jars filled with sweets and trinkets; ice creams and indulging in the chocolate tombola. New and popular this year – on such a hot day – was fresh, homemade lemonade too. The cuddly toy tombola made a popular reprise from last year, finding a new loving home, for all those unloved old teddies! Welly wanging, soak the teachers, penalty shoot out and golf chipping provided some calorie burning options – to offset the excesses of sweets and cake available!
At the end of the fete, parents arrived and spent lots of money on second hand books and cake! Money is still rolling in and being counted but current indications are that the fete raised more than the £1500 raised last year. So thank you all so very much for your financial contributions on the day and to all those who set up and ran stalls; loaned and put up marquees and gazebos; made posters and bunting.
It was wonderful to host the fete for Porchlight, a charity supporting the homeless in Kent, with Kate Boulding visiting us twice – to open the fete and host two wonderful assemblies for the children in middle and senior school before half-term. Her manner with the children was excellent and it was great listening to children really engage with the causes and cures of homelessness - and debunking some myths - broadening their minds to the complex world around them.
The afternoon ended with Mr Ward and Mr Tooze getting a soaking in the village stocks and the – now – annual Inter-House Year 8 wheelbarrow relay (Dunbar 2nd, pipped to first place by Hawkings). It was – and is – a great way to end the half-term, to reward our hard working community of children with a fun filled afternoon, in support of a good cause.
Preceeding the Fete was the Egan Dog Show and it was amazing to see over 60 dogs in this spectacle of obedience, wagging and dressing up. The obedience activities proved to be a challenge for some more than others, but in the end Monty the Labrador was victorious. A stopwatch recorded a nail biting 10 seconds of wagging and huge congrats to Daisy the cocker spaniel for managing over 60 wags in the timeframe. The much-anticipated 'Dog most like owner' was the final class of the show and what a treat it was. We were transported to Gotham City and wowed by Batgirl and her faithful hound aka Flynn the chocolate labrador. Thank you to everyone who took part and made it such a happy and fun occasion. Particular thanks to our judges Mrs Cooper, Mrs Nichols and our very own Miss Christie.
Over £500 has been raised for Cystic Fibrosis.
Current parents please click here to view the full photo gallery.