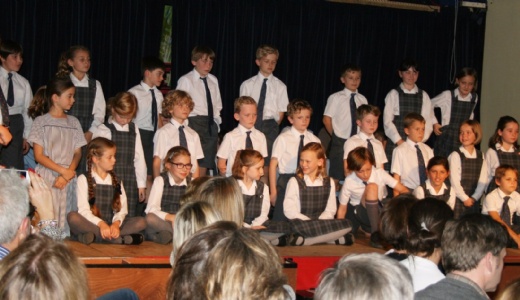 We enjoyed a wonderful celebration of Poetry last Friday!
This year our very popular Poetry Celebration started with a real bang as most of the members of Year 6J performed their own class 'Storm' poems. Packed with wonderful imagery, dramatic delivery and outstanding use of onomatopoeia, the Year 6 children had been working on these poems for some time in class with their English teachers. They had certainly created some wonderful work, of which they were clearly very proud. After this dramatic opening, we were quickly lead into some superb individual performances. As ever, we had a wonderful selection of poems old and new; funny and tragic; dramatic and downright daft! From feline friends to magical creatures, old time favourites and even a little singing thrown in.
First came some rather odd folk, from the ghost-busting Colonel Fazackerly to mushy Snowmen, Rude Dads, aggressive hand driers and even some strangely terrifying things lurking inside Wellies. A Monster from Outer Space also graced our performance area and there were some superb deliveries from all the children. It would not be fair to single out anyone in particular as all were so good in their own way and we will all have our own personal favourites!
This section was ended by another powerfully written and dramatic performance poem on a Storm at Sea from many of 6S, who did not disappoint with their wonderfully original work and their commanding performances. It is always so special to hear children working together and performing their own work; it adds such a sense of purpose to the piece.
Then we were lead to some very special places with beautiful classic poems, some of which many of us will have recalled from our own childhoods. The perennially popular subject of school and demonic teachers was present in many comic poems and we were greatly entertained by these, all delivered with a great sense of fun and super clarity.
Year 4 then took to the main stage to perform their wonderful version of T. S. Eliot's classic poem, McCavity, The Mystery Cat. Year 4 were in fantastic form, giving us a real treat with their dramatic rendition of this great poem. There were some wonderful individual performances with lovely, clear and strong voices in evidence and a great sense of performance, giving the audience a visual and aural treat.
The packed hall then quietened down to a hush as our individual participants took to the stage once again. We heard next about some amazing animals, from frustrated parrots, to cats and dogs tumbling from the heavens, fleas with feelings and a pet dog with some rather anti-social habits!
Once again, the children's performances were a treat to behold; the audience was brought to tears (of laughter) by many.
6R's Storm Poem came next; another example of the children's creative imaginations and skill with imagery, delivered with great confidence and enjoyment. Once the humungous waves had died down – both of the seas and of the applause - we were assailed by a sea of vegetables and flying popcorn, dying cupcakes and poor table manners, and finally we were given a salutary and very funny warning about the importance of dental hygiene with Pam Ayres' cautionary poem: "I wish I'd looked after Me Teeth."
Gentle and thought–provoking ponderings on a range of issues from the weather, to the rather non-communicative culprit of a range of domestic catastrophes and the delightful and very challenging Kipling classic "If", brought us to our finale piece – a very amusing rendition of Roald Dahl's Cinderella, performed with great flair by four girls from Year 7.
Some very little and some rather larger people all showed tremendous courage and resilience in facing the packed auditorium and the dazzling lights to give us their renditions of their very special poems, on which many had clearly worked very hard indeed.
It is impossible to single out all the individuals for particular praise as ALL the children did a fantastic job and, as always, we were willing them on and were impressed by all their wonderful performances, beautifully supportive behaviour and the enormous amount of fun that they brought to the proceedings.