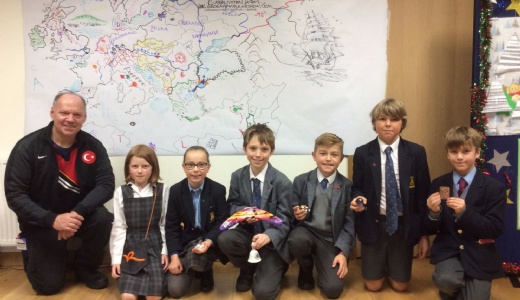 Our Year 5 to Year 8 pupils were enthralled to see the wonderful talents of Neal Nichols last Monday.
It was his second time, having visited back in 2015. He visited from the USA and inspired students with a free-hand drawn map of Europe and then the world. He developed the map with stories of places and locations and showed students how to use colour and symbols to help them remember all their key facts. The skills they learnt could be applied to a number of different subjects and progress was very evident from the quick-fire tests throughout his show.
It was entertaining as well as informative and children were engaged throughout the talk. The prizes, available from around the world, including boomerangs and batiks to polar bears and American footballs, were a huge incentive for the children to listen, remember and recall. In the afternoon, he kindly passed on his passion and skills to budding Year 7 artists. It was a highly memorable day, which will hopefully have a lasting impact for years to come… let's see what happens in the next Geography location test!