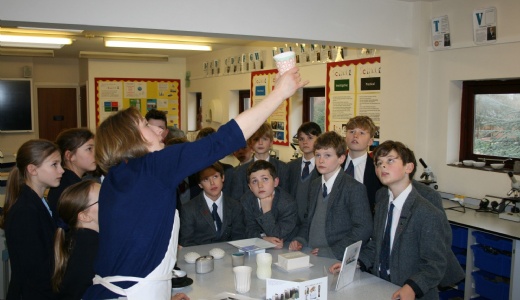 Last Thursday saw the launch of the third annual 'Weald Award for Creativity and Innovation'. Fifty children from Year 6 and 7 were accompanied by some children from Bethany School and Horsmonden Primary School (other schools have signed up but could not make it to the launch event). The purpose of the event was to inspire and excite the children in starting to develop their own original and creative ideas. After an uncharacteristically brief introduction from our own self-appointed "Creativity guru", Mr Payne-Cook, the children rotated around a carousel of four engaging activities for 20 minutes each. Kate Schuricht, a ceramic artist, had the children modelling with clay – encouraging them to get in to the "flow", to loosen their minds and start to feel whatever pops into their head. Dr Gary McKay, a remote sensing scientist, CERN and University of Dundee Research Fellow, challenged the children on their preconceptions of creativity and discussed the nebulous concept of "blue sky thinking". Dr Cheryl Doherty, a crystallographer at Pfizer shared some of the complex technology and science involved in designing a new medicine and Andy Puncher, co-founding Director of pH plus architects in London really fired the children up; challenging them to "brain storm" ideas for the perfect school.
Finally, last year's winner – Will from Bethany - presented his "Toilet Super System" to give some indication of the standard the judges are looking for. Hopefully the children channel their positive and enriching experience into some world changing ideas, designs or whacky inventions. A really wonderful, WACI afternoon!
This competition is open to children from Year 6 or 7, solo or in pairs. Entries will be judged by a diverse panel of creative experts week beginning 18th June.
We can't wait to see what ideas the children will come up with!