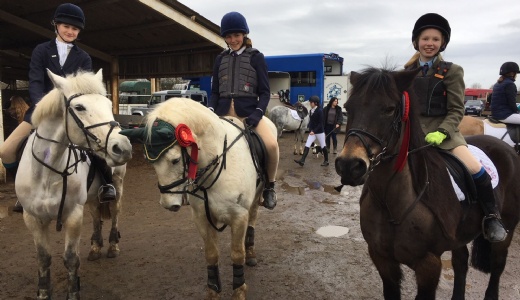 Our Equestrian team had a hugely successful and fun half term!
We have a thriving Equestrian team at Marlborough House and last week was a week to remember for eight of the pupils who ride for the school! Lots of rosettes and happy, smiling faces were the order of the day.
We participated in three shows in three days (well done to Holly who did all three!). The first two days at Duckhurst Farm, Staplehurst, were very cold indeed so not for the faint-hearted!
Duckhurst, Day One – Tuesday - A fantastic start to the competitions when our 60cm team and our 70cm team both won their respective classes and qualified for the NSEA Grass Roots Championships which take place in November. Well done to Emily, Amelie, Isabella R, Holly and Isabella S. Emily, Amelie and Isabella S also qualified as individuals! In the 75cm class Emily, Amelie, Isabella R and Holly were 2nd, 3rd, 4th and 6th!
Duckhurst, Day Two - Wednesday was the day of the NSEA County Qualifier for Kent schools and we had a team of three riders in both the 70cm class and the 80cm class - they won both making them the Kent Champions at these heights! Therefore Marlborough House will represent Kent in the NSEA County Championships in Buckinghamshire in April! Well done to Daisy, Holly, Olivia and Emma. Emma also competed in the 90cm class and came 4th individually with a super speedy round.
Petley Wood, Day Three - Fortunately, Thursday was a little sunnier as we had two girls competing in the NSEA Eventers' Challenge at Petley Wood, near Battle, this time in an outdoor arena so luckily the rain had stopped too! Well done to Holly who competed in the 70cm class and to Emma who did a fantastic round to come 8th out of 47 competitors (most from senior schools) in the 80cm.
A fitting end to three fantastic days for the MHS equestrian pupils. Well done to all the girls (we do have boys in our team too but they weren't able to compete this time!) and to the parents for their suport and for taking the children to compete for the school.