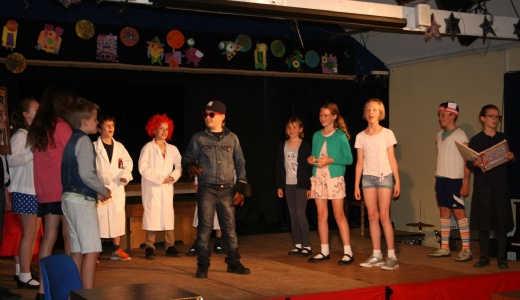 Last Friday the Old Gym once again rocked to the sound of laughter and applause!
This time it was the Year 6 children who took to the stage to perform the annual informal plays. The children did not leave their spectators disappointed. Far from it, they produced fantastic plays that enthralled and entertained the audience.
The challenge of the informal plays project is for each Year 6 English class to write, cast, produce and perform an original play. The subject for each play is always 'Inverted fairy tales', allowing the children great freedom for expression and imagination, alongside familiar characters and story lines.
The three classes this year were particularly inventive. 6S created 'The King's Challenge', an energetic tale that was a splice of Cinderella and the Twelve Dancing Princesses (with many memorable dance routines). 6K produced 'The Hair's the Cure', the Rapunzel story, set to original music, with characters stolen from many other Grimm Tales. Whilst 6J brought traditional characters right up to date with their play, 'Fairy Tale High', where four cheerleading princesses battled it out for the coveted title of Prom Queen.
The morning's entertainment was fabulous. The children performed with remarkable confidence, energy and assurance, setting a great example to the spectating Year 5's. The theatre had a wonderful atmosphere of fun and frivolity. It was joyful to witness parents, teachers and pupils genuinely laughing at the accomplished comic performances of the young actors on stage. Furthermore, the pupils should be particularly proud of themselves because the plays were all conceived, written and produced by themselves.
Another memorable moment at MHS. Well done to everyone involved!
Please click here to see the Gallery of photos